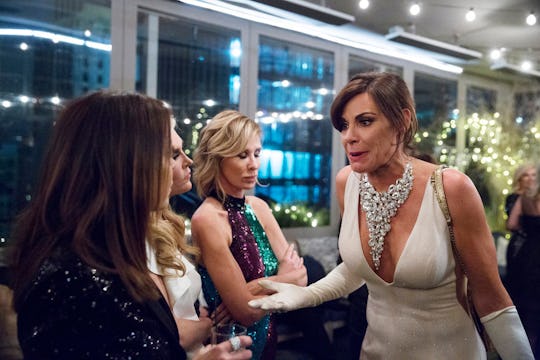 Heidi Gutman/Bravo
Dorinda Is Not Happy With Lu In The 'RHONY' Finale
Tensions have been building between Luann de Lesseps and Dorinda Medley all season on Real Housewives of New York, but in the season finale, at Lu's much-anticipated cabaret show, we see Dorinda throw hands. The fight is apparently over her boyfriend not receiving an invite to the performance, which leaves fans wondering: are Luann and John Mahdessian feuding on RHONY? In this case, it seems to be more about Lu's conflict with Dorinda.
It looks like Dorinda wanted to bring John to the show and the after party, which doubles as the season finale soirée, but Luann apparently told her that there weren't enough seats left to accommodate him. When Tinsley asks for a ticket for Scott, however, who happens to be in town, Luann does find an extra seat for him. So what gives? Luann claims it was a misunderstanding and accuses Dorinda of bringing her grumpiness upon herself. "She ruined her own night, she didn't invite John," Luann says in a clip from the finale. "She never asked me."
Tensions between Dorinda and Luann stem from their fight in Cartagena, — wherein Dorinda hit way below the belt. At dinner, Dorinda appeared drunk and to be slurring her words, which newly sober Lu pointed out, warning Dorinda that she was starting to "turn." Dorinda, taking great exception to being called out for drinking by someone who hasn't been sober for very long, rounded on her friend. Dorinda called Luann "uppity" and an "ex-countess" and also brought up Luann's recent arrest: "No, you drink some more and get arrested, honey. Felony." It was, well, ugly. The two appeared to make up the next day but from the looks of this argument, they haven't totally buried the hatchet.
In the clip from the finale, Dorinda, still stung about the perceived slight to her boyfriend, John, approaches the group. At first it seems like she's trying to make nice. "You were amazing, I'm so proud of you," Dorinda says to Luann. "I really don't want to even talk about it. It's your night, you look beautiful. Your dresses are beautiful. Thank you so much for having me." But then she finishes with a barb: "Thank you so much for inviting Scott last minute." This obviously triggers Luann, who appears composed and reasonable, and she tries to "clarify" what happened. But Dorinda isn't having it.
"I listen to you, but I don't listen to you. I've been a friend for you for a long time," she says. "I'm not listening to you lecture me tonight. Thank you for inviting Scott. Thank you so much for having me. You look gorgeous tonight. Congratulations, my darling. You did a great job."
It's a pretty awkward encounter and I'm sure tension around this particular conflict will still be running high by the time the reunion shows air in the next few weeks. Unfortunately, Luann skipped out on the reunion, opting instead to return to rehab. Bethenny told People in a statement at the time: "This weekend, Luann was surrounded by her girlfriends and decided — with their support — that in light of recent circumstances, it is the healthiest choice for her not to attend Tuesday's reunion taping so that she can continue in her healing process." So we won't hear more from her about what, if anything, transpired between Luann and John. All fans can hope for now is an explanation by the time the next season rolls around.