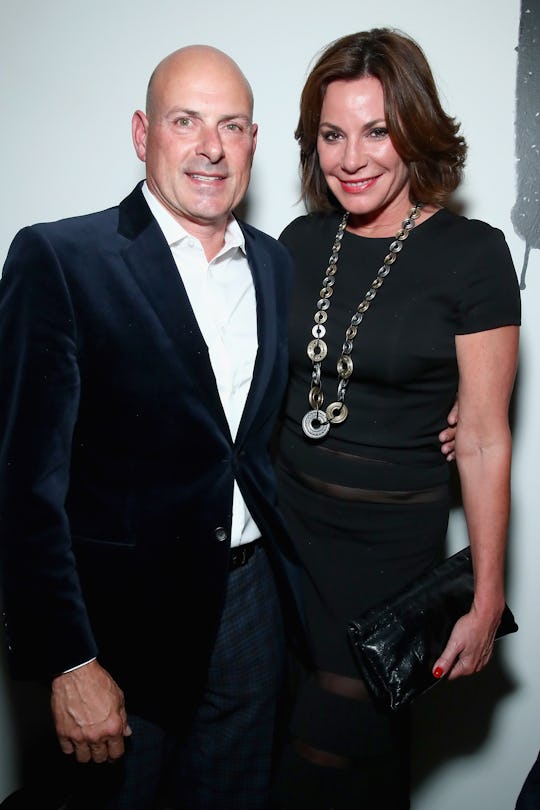 Astrid Stawiarz/Getty Images Entertainment/Getty Images
Luann & Tom From 'RHONY' Are Still Going Strong
I know it's not nice to gossip. And I know that Luann D'agostino in particular is very sick of everybody's opinions about her marriage. But I have to wonder, are Luann and Tom from Real Housewives of New York still together? Recent reports in the press, which Ramona has most likely cut out and stuffed in her purse to be revealed as evidence at the most opportune moment, suggest that their marriage is on the rocks, though they are still together.
A recent article in the New York Post featured the headline, "Luann de Lesseps' marriage is hanging by a thread," which may lead some to wonder what happened to the I-Wouldn't-Give-Up-The-Countess-Title-For-Anything-But-Wife wedding bliss Luann was in this season on the show. The article claims that Luann and Tom got into a huge fight at a fancy New York City restaurant recently that ended in Luann slapping her new husband across the face. The article went on to allege that the couple have broken up and gotten back together several times, that Tom hates the whole "reality TV thing" and that Luann is a drama queen. The fact that Luann is a drama queen is the only part of this article that I, personally, can confirm, but that's why we love her. For her part, Luann dismissed the article as nonsense. On Watch What Happens Live, she gave host Andy Cohen a different version of events.
"I did not slap him," she said. "We have a very passionate love affair going." She explained that while they most certainly got into a fight, they always make up. What people saw as a slap was actually Luann very lovingly patting her hubby's face.
People magazine reported that Luann told them, "What couple doesn't argue?" She went on to assure everyone that there are absolutely no problems in her marriage in the most Luann way possible. "A good healthy argument makes for good makeup sex," she added. "And we are having a lot of makeup sex." Take that however you want to take it. For his part, Tom told Us Weekly "There is a lot of love here. We want it to succeed."
So the short answer is that yes, Tom and Luann are still together. The rumor mill is still going crazy, as always, but who knows? Maybe these two crazy kids will make it work and make us all look like fools.