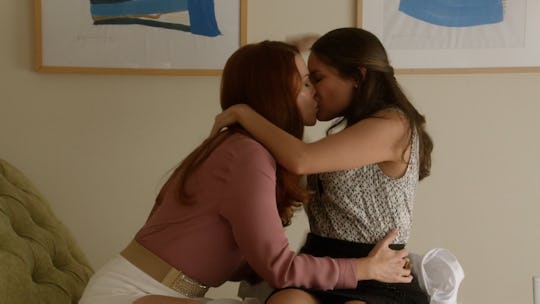 CW
Are Luisa & Rose Back Together On 'Jane The Virgin'? They're Working On Their Relationship
From the very beginning Jane the Virgin was a love story. Sure the whole Jane/Michael/Rafael situation was fun to watch but the real love story was happening between Luisa and Rose. Their love began during a very romantic night when they kissed in the pool and there were literal fireworks around them. Since then their relationship has been a wild ride to watch, filled with secrets, clandestine meetings, and a lot drama. Just when it seemed their relationship may be over for good Rose surprised Luisa (and viewers) by making a reappearance. So are Luisa and Rose back together on Jane the Virgin or will they call it quits for good?
It looks like Luisa and Rose are actually going to give their relationship another shot. At the end of Season 2 Michael discovered that his partner, Susanna Barnett, wasn't who she claimed to be. Unfortunately for Michael this discovery led to him being shot; the verdict's still out on whether or not the wound was fatal. After being discovered, "Susanna" returned to her room and revealed to Luisa that she was actually Rose. Earlier in the season Rose appeared to be dead after a shoot off in the hospital but it turns out Rose just made some kind of switch and just took on the identity of Susanna instead. So while Luisa thought she had moved on from Rose with Susanna, it turned out she was still very much in love with Rose.
Luisa truly believed she was done with Rose, so how willing will she be to jump right back into a relationship with her? Well in an interview with Yahoo! TV, Jane the Virgin creator Jennie Snyder Urman revealed that Luisa and Rose are headed for couples therapy to try to work things out. "We're going to see Rose and Luisa attempt therapy to see if they can get past their issues," Urman said. "Ultimately Luisa is going to have to make a choice about whether she wants to spend a life on the run with Rose or return to the family."
That will be a big choice for Luisa and one she's faced before. So what will she choose? As Rose said, their love story is "the greatest ever told" and it seems unlikely Luisa will walk away from it even if she should.
Tune in to the Season 3 premiere of Jane the Virgin on Oct. 17 at 9 p.m. EST on The CW to see what's in store for Luisa and Rose.