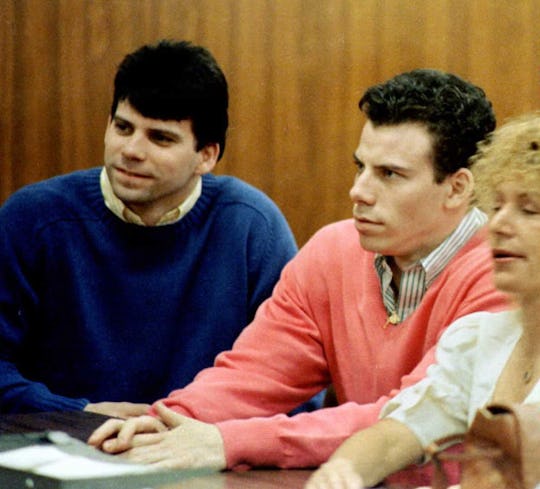 MIKE NELSON/AFP/Getty Images
Lyle Menendez & Rebecca Sneed Are Still Together
One would think that there are a few things that preclude a person from entering into a marriage: being a convicted murderer, for example, or spending one's life in prison away from one's spouse. However, this has been proven time and time again to not be the case; many a murderer has gotten hitched while serving time for their crimes. After killing their parents in cold blood, both Lyle and Erik Menéndez were married in prison — and more than once, at that. Lyle first married a woman named Anna Eriksson, but after they divorced he married again to Rebecca Sneed. But are Lyle Menéndez and Rebecca Sneed still married?
Indeed they are. Menéndez and Sneed have been married since 2003, just a few short years after his divorce from Eriksson back in 2001. Their ceremony, such as it was, was held at the Mule Creek State Prison, which was near Sacramento where Sneed was from. They reportedly knew each other for 10 years prior to their marriage and she visits him regularly, but their marriage is contained to the visiting room because conjugal visits are not allowed in California for prisoners serving life sentences, as Menéndez is. (Some sources have reported they married over the telephone, not in person.)
Menéndez and his first wife Eriksson began exchanging letters in 1995, marrying two years later but divorcing in 2001 after Eriksson learned that Menéndez was still writing letters to other women. One of those women appears to have been Sneed. She was a magazine editor who became a defense attorney after making her connection with Menéndez, but hasn't been particularly public about their relationship, unlike Erik Menéndez's wife, Tammi Saccoman.
Erik married Saccoman in 1997 and they are still married as well; she even wrote a book about their relationship titled They Said We'd Never Make It: My Life With Erik Menéndez. That led to an A&E documentary called Mrs. Menendez in 2010. Saccoman and Sneed apparently aren't on good terms , which has caused something of a rift between the brothers, who haven't seen each other in decades and are in different prisons. Though Sneed lived with Saccoman briefly, Saccoman told People, "I wasn't getting along with Lyle's wife." Despite that, the brothers do still write to one another.
There have also been tabloid reports that Lyle Menéndez is living a "double life" as a gay man in prison, and that this has put strain on his marriage with Sneed. One would think serving a life sentence for murder was enough to put a strain on things all by itself though.