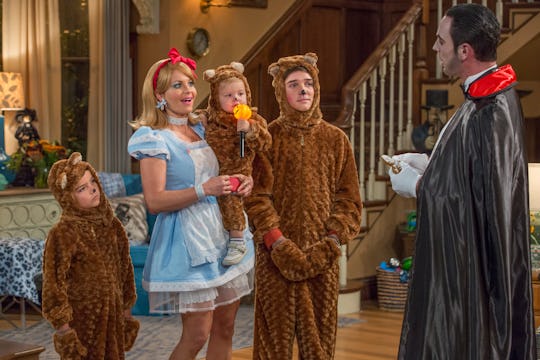 Are Mary-Kate & Ashley Olsen In 'Fuller House' Season 2? Michelle Is The Only One Missing
A lot of the fun of the current nostalgia boom comes from seeing actors you loved when you were younger come back to reprise their original roles. It's exciting to see what has changed and what has stayed the same. Often the original stars of beloved bygone shows are open and available to returning, but that's not always the case. Full House fans were disappointed when the twins famous for playing youngest daughter Michelle didn't show up for the first season of the sequel series, but are Mary-Kate and Ashley Olsen in Fuller House Season 2?
The two stars are not set to return, but this isn't much of a surprise. Both Mary-Kate and Ashley seem to have moved on entirely from acting, focusing on other pursuits; neither has taken an onscreen role since 2011, and starring roles are even farther in the past. Though they spent the majority of their childhood and teen years acting in countless movies and series, the women have spent the years since focusing on their successful fashion lines and fragrances. It looks like they prefer a life behind the scenes instead of in front of the camera, which is understandable when you've been acting since you were nine months old.
But it's also understandable for fans to be a little let down by it, since having Mary-Kate and Ashley appear on Fuller House would be such an unexpected but pleasant surprise. The show has poked fun at the situation, brushing off Michelle's absence with a very meta joke about her moving to New York to pursue fashion, just like the actresses who played her did. The cast has had a sense of humor about it too, with John Stamos joking that the Olsen twins would be joining the cast of Scream Queens – but then quickly taking it back. "That would be amazing!" Stamos said at Comic-Con. "I can't even get them on my show."
Jodie Sweetin also made it sound like the idea of the Olsen twins appearing on Fuller House was pretty much a pipe dream. She told Entertainment Weekly, "We've tried everything. I think we've kinda given up." The rest of the Tanner clan will be in attendance, however, and Season 2 promises plenty of nostalgic cameos (most notably, New Kids On The Block show up in the Season 2 trailer). Just because Mary-Kate and Ashley won't be making an appearance doesn't mean Fuller House will be missing anything.