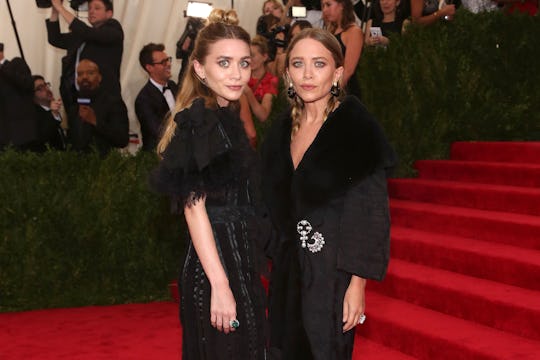 Taylor Hill/FilmMagic/Getty Images
Are Mary-Kate & Ashley Olsen Watching 'Fuller House'? They've Got A Lot On Their Plates At The Moment
The Statue of Liberty, Mount Rushmore, and Michelle Tanner. What do those three things have in common? They're all American icons, duh. In fact, if you want to pull it apart fully, you could even argue that the actresses that played little Michelle on Full House, Mary-Kate and Ashley Olsen, are pretty iconic themselves. Now that Netflix has given fans everywhere the best gift ever in the form of a reboot, it makes you wonder if both Mary-Kate and Ashley are watching Fuller House (aka, the show that made them big name stars) along with the rest of us.
So... are they? If their schedules are any indication, both Mary-Kate and Ashley might be too busy working to tune in at the same time as everyone else, although they'll probably tune in eventually. The Olsen twins still appear to keep in touch with the Full House cast, after all. Most recently, Ashley showed up to a performance of TV dad Bob Saget's Broadway production, Hand of God, posing for a few friendly photos. "Loved having my dear friend Ashley Olsen at my welcoming opening of @HandToGodBway last night," Saget wrote in the caption of an Instagram post that week, posting a pic of the two hugging it out. And Saget isn't the only one gettin' weepy from all the Fuller House feels: Just this week, Uncle Jesse himself, John Stamos, posted an Instagram video of the two girls from back in the day, captioning it "#StamosHomeMoves ... Hawaii '89 Mk/A." (Go ahead and say it with me now: D'awww....)
In an interview with Ellen Degeneres in 2014, both women admitted that they occasionally tune into the original show, if it's on television. "[We watch it] sometimes," Ashley said. When asked whether they could tell which twin was playing Michelle Tanner in each scene, Mary-Kate joked, "I think when we got a little older... but I feel like photos [of us] are going to pop up and [you're going to make us prove that]."
Despite the fact that the two remain relatively quiet on the whole Fuller House thing, the show's producers have maintained that the famous twins won't be making an appearance for relatively uncontroversial reasons, and not because there was ever any drama with the cast (take that, gossip mags!). "Ashley said, I have not been in front of a camera since I was 17 and I don't feel comfortable acting,'" executive producer Bob Boyett told People in an interview last month. "Mary-Kate said, 'It would have to be me because Ash doesn't want to do it. But the timing is so bad for us.'"
Both Ashley and Mary-Kate have had their hands full with work lately, putting in hours on their various fashion endeavors. Aside from their high-end lines, The Row and Elizabeth & James (named after their siblings, naturally), the two also oversee their department store line Olsenboye and their tee-shirt company StyleMint. The Olsen's incredible work (seriously, I want it all) has garnered them several design accolades over the years, including a coveted Womenswear Designer of the Year Award from the Council of the Fashion Designers of America — which they won twice, once in 2012, and again in 2015.
Whether or not the Olsen twins will be a serious part of Fuller House in the future is still up in the air. For now, it seems the two are more than happy to focus on their design work and watch the fun from afar. Avid Tanner family fans should keep their fingers crossed though — because hey, there's always cameos.