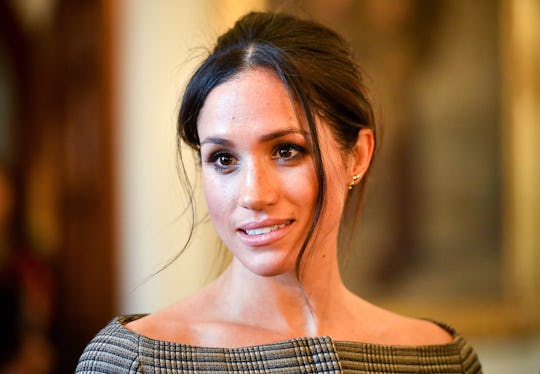 WPA Pool/Getty Images Entertainment/Getty Images
Are Meghan Markle & Her Dad Close? Their Relationship Has Faced An Onslaught Of Rumors
With Meghan Markle's wedding to Prince Harry just days away, fans of the couple are dying to see who made the cut for the royal guest list. Rumors have spread about an alleged strained relationship between the actress and her father, Thomas Markle, ever since Markle's road to royalty kicked into high gear. And on Monday, TMZ reported that Thomas will no longer be attending the wedding due to a heart attack (more on that in a moment). So, it makes sense that many are wondering if Meghan Markle and her dad are close.
Like his daughter, Thomas has a background in show business. He made a living as an Emmy-winning lighting director on a variety of TV shows, including Married…With Children and General Hospital, The Sun reported. Their common interest in television surely brought them closer together, and growing up with a father who worked in TV may have even inspired Markle to become an actress.
As for whether Thomas has met Prince Harry yet, the internet yields a variety of results. Earlier this month, Us Weekly reported they had yet to meet and would be first meeting just before the royal wedding. On the other hand, The Sun reported that Prince Harry and Thomas had already met, while on a trip in Canada.
Kensington Palace's communications secretary previously confirmed that Thomas would be at his daughter's big day to walk her down the aisle. The communications secretary released the following statement on May 4, Express reported:
Mr. Thomas Markle and Ms. Doria Ragland will be arriving in the UK in the week of the wedding, allowing time for Prince Harry's family, including The Queen, The Duke of Edinburgh, The Prince of Wales, The Duchess of Cornwall, and The Duke and Duchess of Cambridge, to spend time with them before the big day.
However, TMZ reported on Monday that Thomas suffered a heart attack several days ago, and would no longer make it to his daughter's wedding. Representatives for Meghan Markle did not immediately respond to Romper's request for comment, and Romper could not reach Thomas Markle for comment.
Markle's mother Doria Ragland and Thomas divorced in 1988, when Markle was 6 or 7 years old, according to TIME. Despite the divorce, it seems like Markle's parents still have a good relationship; they wrote a joint statement in celebration of their daughter's engagement to Prince Harry, released by Clarence House. It read, according to People:
Our daughter has always been a kind and loving person ... To see her union with Harry, who shares the same qualities, is a source of great joy for us as parents.
Markle has spoken highly of both her parents on multiple occasions, crediting them for her passion for social advocacy. In a 2016 essay for Elle, she wrote:
My parents came from little so they made a choice to give a lot ... It's what I grew up seeing, so it's what I grew up being: a young adult with a social consciousness to do what I could and speak up when I knew something was wrong.
Not to mention, Markle wrote a heartfelt, grateful Instagram post for her dad on Father's Day in 2016, The Sun reported. Alongside a throwback picture of her and her dad, Markle reportedly wrote on her now-defunct Instagram:
Happy Father's Day, daddy. I'm still your buckaroo, and to this day your hugs are still the very best in the whole wide world ... Thanks for my work ethic, my love of Busby Berkeley films & club sandwiches, for teaching me the importance of handwritten thank you notes, and for giving me that signature Markle nose. I love you xo -Bean.
All that being said, several negative rumors have made their way around the internet regarding Markle and her father's relationship. Last month, Markle's stepsister Samantha Markle alleged on Twitter that no one on their father's side of the family had received an invitation, even though all invitations had been sent out, Metro reported. Meghan did not respond to Romper's request for comment regarding the allegation.
Additionally, The Daily Beast reported that paparazzi photos recently emerged of Thomas doing a variety of wedding-related activities, including trying on tuxedos and reading books about British culture. However, earlier this week, news broke that the photos were in fact staged, and taken by paparazzi photographer Jeff Rayner. And to add fuel to the fire, Samantha reportedly claimed responsibility for the images on her private Twitter account. The tweets are no longer viewable by those who do not follow her, but she allegedly explained that she urged her father to do the shoot to make up for negative media coverage, Refinery 29 reported.
No father-daughter relationship is uncomplicated. Whether or not there is any truth to rumors that Meghan and her dad have a strained relationship, it's clear that there is a lot of love between them. Here's hoping reports that he will not be attending the royal wedding are untrue, as he would undoubtedly love to be there for his daughter on Saturday.