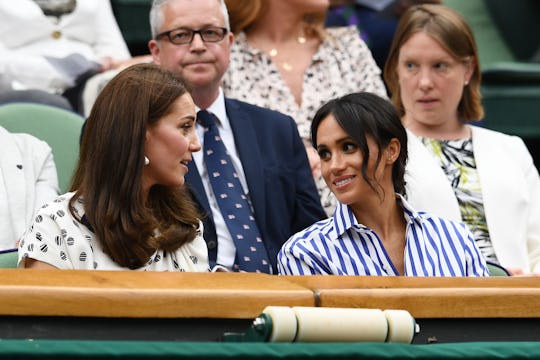 Clive Mason/Getty Images Entertainment/Getty Images
Rumors About Meghan Markle & Kate Middleton Fighting Need To Stop ASAP
With the UK's royal family taking up so many headlines these days between royal weddings and brand-new babies, you just knew it would happen at some point: The inevitable stories about female catfights behind palace walls.
With gossip circulating, questioning if Meghan Markle and Kate Middleton are close, new rumors about their relationship really need to stop before we all fall into the same old trap of looking for personality issues between women of note.
As CafeMom noted, there's been some gossip in the British press, including places like the Daily Mail, that Kate, Duchess of Cambridge, and Meghan, Duchess of Sussex, "don't really get on" and that, further, the two women's personality conflict is the reason Prince Harry and Markle have announced their move to Windsor, 25 miles outside London and away from Kensington Palace.
Royal watchers then chimed in, including Richard Palmer, the royal correspondent for the Daily Express in London, who started a Twitter storm by saying the rumors are based on some truth and that the sisters-in-law are not as close as everyone assumed.
Now, the whole thing just gets me steaming mad. It seems like every time a high-profile female starts to get attention, whether it's in politics, fashion, sports, or entertainment, the next thing that happens is that rumors circulate that said woman is "difficult," followed by the list of which other accomplished women with whom she is supposedly fighting.
Luckily, users on Twitter are connecting the dots and calling out the female-bashing BS:
Behind all these she-said-she-said rumors, at least to me, is a societal belief that women must compete against each other for resources, including fame, money, and men. Think about it: When is the last time you heard rumors about the male leads of any Avengers movie squabbling? Does anyone talk about Chris Hemsworth vs. Chris Evans, and who was jealous of how buff the other guy got on set? Nope.
Meanwhile, every news outlet on Earth spent years detailing the supposed falling out of the Sex and the City cast. And don't forget all the ink devoted to such supposed female feuds as Taylor Swift vs. Katy Perry, as Refinery29 noted.
By all accounts, Harry and William have always been close, as Hello! magazine recently confirmed. And as Elle noted, rumors of a big wives' rift as the reason behind Harry and Meghan's move don't make sense when you consider that the couple are not next in line for the throne, don't need to live in London, and want to prepare for baby somewhere quieter than the capital.
Also, the couples have frequently been photographed laughing and talking, so it just doesn't add up that all of a sudden, the duchesses are having a dramatic squabble.
Part of the problem, I think, is that there is often a build-up narrative followed by a tear down narrative played out in the British press. (The Daily Mail previously offered a step-by-step guide through the supposed Prince Charles vs. Prince Andrew feud, sigh.)
Meghan Markle has proudly called herself a feminist, as The Guardian noted. So let's give her and Middleton and the rest of the royals the benefit of the doubt. Families are not perfect, and sisters-in-law don't have to be joined at the hip to have a respectful alliance.
If kids learn it's not always one woman vs. another, then they will come to see such news stories as part of an old narrative that doesn't allow women to be complex people who no doubt do their best on a daily basis to get along with everyone, just like men do.
This first-time mom wants to have a home birth, but is she ready? Watch how a doula supports a military mom who's determined to have a home birth in Episode One of Romper's Doula Diaries, Season Two, below. Visit Bustle Digital Group's YouTube page for the next three episodes, launching every Monday starting November 26.