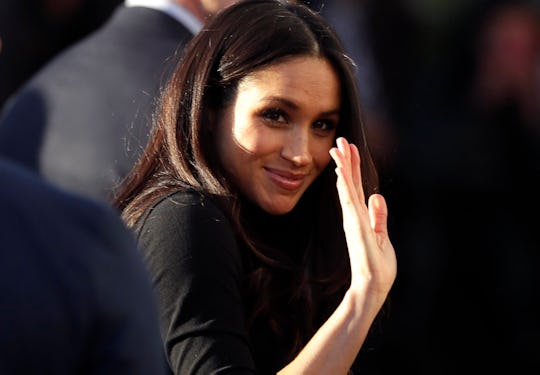 WPA Pool/Getty Images Entertainment/Getty Images
Meghan Markle & Kate Middleton Might Have A Budding Friendship
In case you somehow haven't heard the news yet, another wedding is on the horizon for the British royal family. Prince Harry proposed to actress Meghan Markle in November, and news of the engagement was announced on Nov. 27. Since the relationship was pretty low-key up until the engagement, people have a lot of questions about Markle, who is mostly known for her work as an actress on the USA Network show Suits. With the wedding fast approaching, people are especially curious about the details of the affair — like, who's going to be in the wedding party? Are Kate Middleton and Markle friends, and would she have her sister-in-law as, say, a bridesmaid at the event?
Prince Harry has already asked Prince William to be his best man in the upcoming wedding, a source told Us Weekly. But what about Middleton? Are she and Meghan even close, or is it customary to always include family members in a royal wedding party regardless of closeness? Prince William and Middleton's kids, Prince George and Princess Charlotte, are reportedly going to be a part of the big day, but no one (publicly) seems to knows how or if Middleton will have a role in the event as well.
There are still a lot of questions, but Markle has already told one outlet that she's met Prince William and Middleton a few times now, and it's gone well. Markle reportedly said during her first interview together with Prince Harry that Middleton has "been wonderful" to her so far. And the royal family in general has "been amazing," according to E! News.
The Duchess of Cambridge's recent comments on the engagement and on Markle are kind, though subdued. She said, according to The Vancouver Sun:
William and I are absolutely thrilled. It's such exciting news...It's a really happy time for any couple and we wish them all the best.
That's a bit of a formal response, and doesn't exactly read as enthusiastic on paper. But remember, Middleton is a member of the British royal family by marriage, and they're not exactly known for outlandish comments or highly enthusiastic statements, even about something as exciting as a family wedding.
The thing is, questions about just how close the two women are may be just a bit premature. Prince Harry only introduced his girlfriend to Middleton and his niece, Princess Charlotte, in January, according to People.
So technically, Markle and Middleton haven't even known each other for a year. And while some people hit it off right away, it wouldn't be a surprise if they haven't had much of a chance to get to know each other, especially with Middleton's difficult third pregnancy, which kept her out of sorts for awhile, and with how busy she and Prince William are with royal duties and being parents to their two small children.
Prince William and Middleton are reportedly "very excited" for Prince Harry and Markle, but it doesn't sound like either of them are particularly close to Markle — at least, not yet.
There's a good chance that Markle and Middleton will become close in the future, however. They are around the same age, and both will be married to two of the most well-known royals in the world very soon. Markle and Middleton might live close to one another after the wedding as well, and proximity can mean a lot when it comes to a budding friendship.
So far, the royal family has apparently been very welcoming to Prince Harry's fiancée, and hopefully that will grow into a strong friendship between Markle and Middleton. Markle said of her new family, during the previously mentioned interview by the BBC:
His family has been so welcoming...The family has been great…helping me feel a part of not just the institution but also part of the family, which is really important and really special.
Since there's probably a lot of pressure on Markle as someone marrying into a royal family, it's great that members of that family have made her feel so special so far. Hopefully, as someone who's been through something very similar, Middleton will be especially friendly to Markle, and they can develop a beautiful, sisterly bond the rest of us can either be jealous of or fangirl from afar. I vote for the cheering them on option, because I'm all for women supporting one another, instead of tearing each other down. Go team Markleton.
Check out Romper's new video series, Romper's Doula Diaries:
Watch full episodes of Romper's Doula Diaries on Facebook Watch.