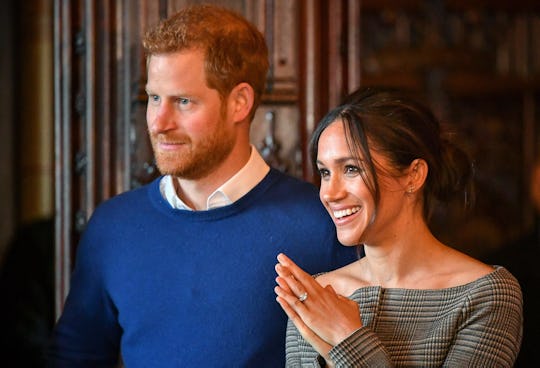 WPA Pool/Getty Images Entertainment/Getty Images
The Royal Family Is Showing Up To The Opening Ceremony, But Maybe Not The Ones You Want
Americans have long had something of a fascination with the British monarchy, perhaps because it still seems so laughably antiquated. But this is why everyone is losing their marbles at the impending royal nuptials scheduled to take place this spring, and also why everyone is wondering are Meghan Markle and Prince Harry at the Olympics opening ceremony? Well, at least one member of the royal family is making an appearance, though it perhaps is not the person that everyone really wanted to see.
On the official Royal Family Twitter account, it was announced that the Princess Royal was in PyeongChang for the Olympics. You may not be aware (I wasn't) but Princess Anne actually has a long history with the Olympics. She became the first member of the Royal Family to compete in the games. In 1976 she competed in the Montreal games as an equestrian, riding the Queen's horse Goodwill. Who knew! In 1988 she became a member of the International Olympic Committee and she is also now President of the British Olympic Association. Well, way to go Princess Anne. So naturally, it makes sense that she would attend the games, and of course she is there to represent her country.
It's unclear if the princess will stay in PyeongChang for the duration of the games but she's definitely there now.
As far as the world's favorite couple (that would be Prince Harry and Markle) are concerned, they likely are not in attendance, having lots of other things on their plate already. People reported that the two would be traveling to Scotland on February 13, where they will visit a youth cafe run by Social Bite, an organization combatting homelessness, as well as a reception marking Scottish Year of Young People at the Palace of Holyroodhouse. The official Kensington Palace Twitter also announced that Prince Harry would be attending the England Rugby team open training session at Twickenham Stadium on February 16.
Considering the fact that all of this is supposed to take place just a couple of days after the Olympic opening ceremony, it seems unlikely that the beloved couple would realistically be able to squeeze in a visit to the Olympic games on February 9. Then again, they are royal (or royal-to-be). So who knows what super powers these two actually have. They could conceivably fly to South Korea for the opening ceremony really quick and then fly straight to Scotland from there, but it seems like a lot for anyone.
Perhaps even more tellingly, there has been no official announcement that they will be in attendance. The Royal Family tends to try to stay ahead of news stories, and they haven't said a word about it. I mean, they announced Prince Harry's attendance at a far-less prestigious rugby practice, to take place just a few days after the Olympic opening ceremony, and they also officially announced Princess Anne's attendance. So if the couple really were going to be at the Olympics, don't you think they'd have said something about it?
Unfortunately, Markle herself has deleted all of her social media accounts, so there's no hope of getting any confirmation from that outlet.
More to come...