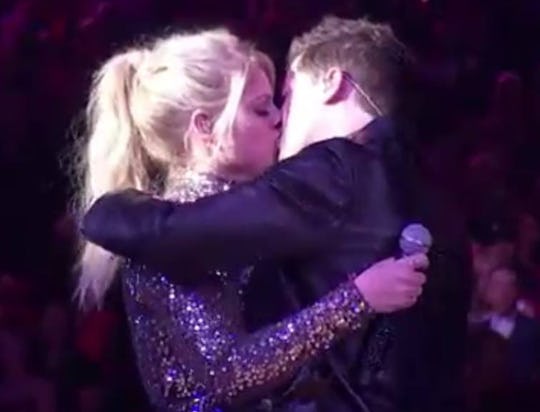 ABC News
Are Meghan Trainor and Charlie Puth Dating? Theories Abound After Last Night's Epic AMAs Kiss
If you're anything like me, you probably tuned into Sunday night's American Music Awards to see more than just performances by your favorite artists. Like any good music awards show, we're always in for a good amount of drama and some unexpected moments. In case you missed it, last night's most surprising display came in the form of a major lip-locking session, when Meghan Trainor and Charlie Puth kissed at the AMAs. And this wasn't just any old kiss either — it was a full-on hot and heavy make-out. Naturally, the scene sent Twitter wild with one big question: Are Meghan Trainor and Charlie Puth dating?
This kiss happened at the end of Trainor and Puth's performance of the hit single "Marvin Gaye" — and let's just say they certainly ended things with a bang. While we were all ready for some heavy crooning, I think it's safe to say that nobody expected the show-stopping make-out sesh we were about to get. And by the looks of Twitter, it seems some of us are still pretty confused, to be honest: Was it all a big publicity stunt, or a spur-of-a-moment thing? And if the kiss does mean the pair are in fact dating, was this their way of breaking the news?
That last question has been on everyone's minds since last night. Even this morning, the Twittersphere is abuzz with people demanding answers and making sense of this whole thing. Oh yeah, and there are people professing their neverending love for Charlie. There is no shortage of that.
Take a scroll through Twitter, and you'll see a myriad of feelings out there about this kiss — ranging from excitement to confusion to disappointment:
Somewhat aware of just how nuts the Twitterverse would get after their performance, Puth took to Twitter last night himself to quiet all the rumors and set the record straight for all of us sitting at home suddenly wondering how their celeb couple name would sound. (Trainpu? Puthtrain? Something's not right here...)
Hmm... OK Charlie whatever you say. Last time I checked, "friends" don't exactly make out like that in public. But hey, it's not the first time we've seen a surprising kiss on stage between a pair of celebs who aren't dating. Ahem...
Guess only time will tell whether or not Puth is telling the truth here. Either way, they'd make one cute couple.
Image: ABC News