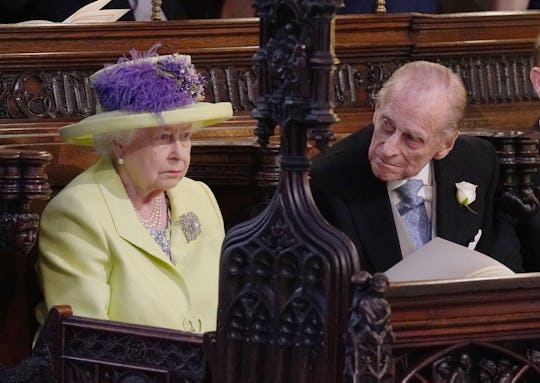 WPA Pool/Getty Images Entertainment/Getty Images
Men & Women Have Completely Different Hat Rules At Royal Weddings
For us mere plebeians, the mortals not invited to such an extravagant event as a royal wedding, just watching the guests arrive is somewhat confusing. First of all, the morning jackets on the men — how can we get those to be a thing here in the U.S.? The same thing goes for my absolute favorite British style piece — the hat. The wackier and more festooned, the better. However, what does tradition dictate when it comes to men's hats? I see top hats and military garb, but are men allowed to wear hats to the royal wedding?
As per the invitations from Kensington Palace, at the wedding of Prince Harry and Meghan Markle, the dress code for women is a day dress with a hat. The dress code for the gentlemen to be in attendance is a "Uniform, Morning Coat or Lounge Suit." Contrary to my original thought on the matter, a lounge suit is not the velour track suits beloved by the cast of The Sopranos, but instead a sharp suit that varies in degrees of formality, and may or may not include a top hat or bowler. However, proper British etiquette dictates that any hat worn by a man to the wedding must be removed upon entering the church, unless it is of religious significance, like a turban or yarmulke, noted Brides.
According to website of etiquette expert Emily Post, this is nothing new. The website noted that "throughout history hats identified social standing and removing a hat was a gesture of respect. In the 'old days,' men took off their hats in Christian churches, when they entered someone's home, when greeting a boss, and always in the presence of a lady. Ladies were entirely exempt from 'hat rules,' wearing them whenever and where ever they wished."
There is a caveat to this wisdom, though. If the man is ill or if he's of a religious order, then he may keep his hat on under any circumstance, wedding or no. So, what about the military? Are men allowed to wear hats to the royal wedding if they're in the military? Here's a fun fact: even in the military, there are areas in which members are expected to remove their hats out of respect. Churches, and especially weddings, fall into that category. However, while women are also exempt from removing their hats at the royal wedding, they should be mindful of the people around them and not get a hat grand enough that it blocks the view of the wedding from the people behind them.
I love the hat tradition of the Brits; it's just a lush accessory that isn't replicated as widely here in the states. Personally, I'm a huge fan of hats. Being a woman with absurdly temperamental hair and incredibly fair skin, I've always had a love of summer hats and ball caps. But the idea of wearing a fascinator to a wedding seems even better, except I feel that here in the states I'd be branded a hipster and they'd try to serve me PBR in the can at the reception.
Men of the United States are probably grateful that top hats and bowlers aren't a trend here on this side of the pond though. They're quite hot, and also they're very expensive. I called a few hat makers around Brooklyn to price the pieces, and the low range is more than double the cost of a pair of limited edition Jordans, so I don't think I could convince my husband to invest. But, even if he did, you can bet I'd make him take it off in church.