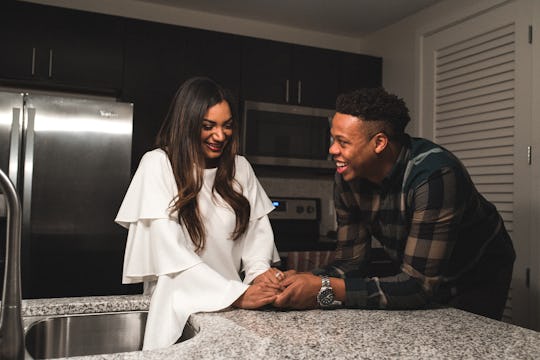 Valerie Chiang/Lifetime
Mia & Tristan From 'Married At First Sight' Had A Rocky Start
It seemed like Mia Bally and Tristan Thompson might have been perfect for each other when they walked down the aisle on Married at First Sight. They shared a devotion to religion and a desire to make marriage work. However, issues from Mia's past threw them an unexpected curveball. Were they able to move past those problems? Are Mia and Tristan from Married at First Sight still together?
It's not entirely clear. Social media would be the best indication of what's going on in their lives after the show, but neither seems to have an Instagram or a Twitter account (at least one that's easy to find). Without socials to go off of, it's impossible to determine whether or not they chose to continue with their marriage after the cameras stopped rolling. They did decide to stay together after weathering a few shocks, so it's possible that Mia and Tristan have remained married. Without evidence to the contrary, viewers can only assume their their final decision has held. If they have changed their minds and planned to divorce instead, then no public announcement has been made or statement has been released. Mia and Tristan might have gotten their happily ever after.
Mia and Tristan seemed well-suited when they were matched together. They both had a family history of successful relationships they were trying to emulate: Mia's parents had been together for over 30 years, and Tristan's grandparents were married for 65. They were both Christians who prioritized their faith, which was a point they could bond over. But problems arose when Mia was arrested for three counts of alleged stalking and one count of alleged credit card fraud right before their honeymoon. Neither Tristan nor the production team behind the show had any idea that there was a warrant out for her.
Producer Eric Detwile told Tristan that they had run "every background check possible" and that the situation was a total shock to all involved. But Detwile stressed that they should listen to Mia's side of the story, which Tristan was open to even though he had his concerns. Everything had been such a whirlwind. "It's been tough," Tristan said when talking to Pastor Calvin Roberson. "Things are going from wedding excitement to basically bombs being dropped every day about something new about Mia. Secrets kill and I said, 'Mia, please just get it all out there because the trust had been broken. What else had you lied about? What else are you keeping from me?'"
A representative for the show confirmed to People that the warrant had been filed after Mia's background check, which is why they were unaware of it. However, the rep promised that the audience would get to see how it all resolved. "Viewers will have the opportunity to watch their emotionally true story as it unfolds in real time throughout the season and learn whether or not the couple ultimately decides to stay married or get a divorce," they said.
And that was true. Tristan decided that he wanted to get the whole story and move on, because they both felt that they were falling in love. He wanted to move forward as a committed married couple; he didn't care about her past so much as the fact that she later lied about it. Mia also felt closer to Tristan than she had with other partners. She came clean about what happened and intended to be honest in the future.
Instead of pushing them apart, the entire ordeal brought them closer together. If they could work through that kind of drama immediately after marrying, perhaps they will be able to keep their relationship going in the future. Only time will tell.