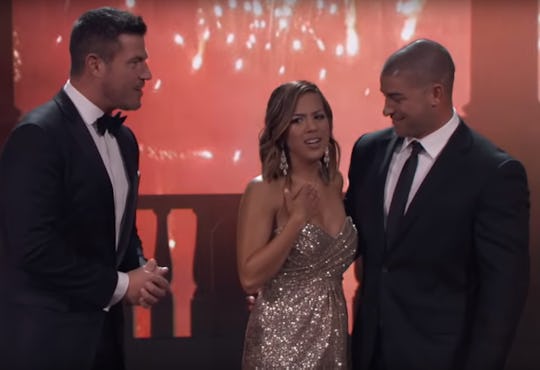 ABC Television Network / Youtube
Did The Fastest Engagement On Television Survive After 'The Proposal'?
As far as reality TV dating shows go, no romance is born faster than on ABC's The Proposal. From the producers of The Bachelor, this new game show is set in beauty pageant style, and if the suitor makes a love connection with one of the contestants, the episode can end with a marriage proposal. That's exactly what happened this week, when suitor Mike Rowe proposed to contestant Monica Villalobos on the show's debut episode. But after such a speedy courtship, people want to know, are Mike and Monica still together after The Proposal?
Well, it looks like the two lovebirds actually made a real connection. In a series of tweets from The Proposal's official account, it was confirmed that Mike and Monica are still together two months after filming. The producer posted photos of the two, along with a video message from the couple. In the video, Mike, a California police officer reveals what a whirlwind their romance has been:
"You guys, I never thought anything like this would happen in, like, a million years. I never thought I'd be on television, never thought I'd get down on one knee and propose to someone in under an hour, but it happened and I got to meet this beautiful girl… We're having a good time and we're excited for what the future has in store for us."
At the end of the video, Monica, a California real estate agent, mentions how excited she is to finally get her ring, which is likely to be coming from The Bachelor's go-to jeweler, Neil Lane, according to Us Weekly. In a Facebook Live post the couple talked about why they came on the show, and Monica revealed that she was just hoping to try something fun and exciting.
"My whole dating life has been kind of nonexistent, and I'm all 'I'm just going to sign up and try something different,' because, you know, why not? And I did, and I'm really glad that I did. You know it's kind of crazy, but it works."
Honestly, when I first heard about the show, I was a bit skeptical on how viable and long lasting the relationships forged on the show would be. It's set in a beauty pageant style format, and each contestant gets an opportunity to give the suitor (who is hidden from sight) a little bit of insight into their personality. Through a series of four rounds, the suitor narrows down their favorites until they pick one person. Then after meeting the finalist face to face, the suitor decides whether or not they want to propose.
For the very first proposal of the series, Mike proposed to Monica with a "as weird as this sounds, will you marry me" moment, which left viewers satisfied and disturbed at the same time:
But after finding out that they are still together, Twitter fans seemed to get some relief:
I've realized that despite the circumstances, when two people make a connection, it can last against all odds. I met my husband in an AOL chat room 15 years ago, and back then, people thought it was unconventional too. It just goes to show how the world of dating and courtship keeps evolving and changing. The social landscape has changed tremendously, and very few things remain mysterious. You can easily stalk someone Facebook, Instagram, and Twitter to get the low down on their life and personality, so it's not like you need much time to get to know a person. As for now, fans are wishing The Proposal's first couple all the luck in the world, and hopefully their relationship lasts forever.
You can catch all new episodes of The Proposal on Mondays at 10 p.m. Eastern time on ABC.