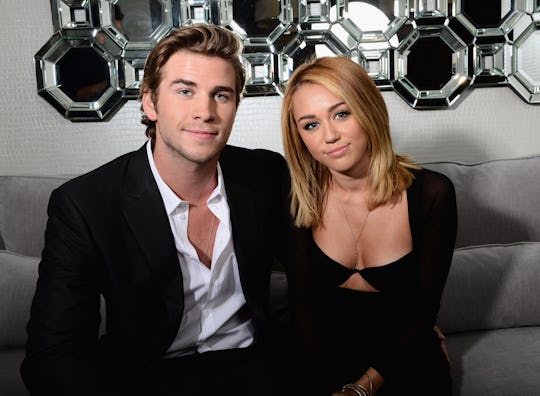 Are Miley Cyrus & Liam Hemsworth Back Together? 5 Signs That Point To Yes
Back in 2013, the end of Miley Cyrus and Liam Hemsworth's engagement coincided with her dramatic transformation from Disney star to, well, the Miley we know today. But it seems there's still a little bit of that old Miley, at least in the eyes of Hemsworth. That's because some big signs point to Miley and Liam getting back together — and moving fast. (Literally and emotionally, actually.)
The Bangerz singer and Hunger Games star met way back in the innocent days of 2009, when they filmed The Last Song together and quickly started their own love story. Cyrus and Hemsworth were on-again, off-again throughout the next few years, but seemed committed to making it work by 2012 when Hemsworth proposed with a stunning engagement ring. Yet, alas, it wasn't meant to be at the time. After delaying their wedding plans, the pair officially ended their engagement in September 2013 — just weeks after that little Video Music Awards performance by Cyrus. They then moved on, some faster than others, with new people. It seemed hope for reconciliation was lost.
And yet, here we are! After unexpectedly reuniting in public just weeks ago, it seems Cyrus and Hemsworth are back together and possibly even engaged again. Let's examine the evidence.
Love Was Still There
Just last October, Hemsworth told Men's Fitness he didn't think his feelings for Cyrus "will ever change." He explained, "That's good because that proves to me that it was real. It wasn't just a fling. It really was an important part of my life and always will be."
Cyrus was never so direct, but an insider recently told People that she always called Hemsworth "the love of her life." The Cyrus source added, "Miley never got over Liam." Despite all that, most Cyrus-Hemsworth fans were of the belief that the duo was totally dunzo — until the beginning of this year.
They Were "Affectionate" In Public
At the beginning of January, the former couple was first seen looking not so "former" at the Falls Music Festival in Australia. According to eyewitnesses, Cyrus and Hemsworth were "very affectionate" while drinking with friends in the VIP area and then taking in the show from the public space. During that same trip down under, they were seen having a private meal at a restaurant.
She Skipped A Gig To Be With Him
Songwriter Linda Perry kind of ratted Cyrus out by telling a crowd the "Hands of Love" singer couldn't make the event as planned because she was still in Australia. You know, with Hemsworth. So maybe they are taking it slow, getting to know each other again, right?
Cyrus Moved Stuff Into Hemsworth's House
Even after returning to the States from their romantic getaway in Australia, it seems Cyrus and Hemsworth still didn't want to be apart. As TMZ reported Tuesday, Cyrus moved some items into Hemsworth's Malibu home with the help of friends over the course of a week.
Cyrus Is Wearing Hemsworth's Ring Again
Perhaps the biggest sign that Cyrus and Hemsworth are totally back on is the fact that she was sporting her (quite noticeable) engagement ring in new Instagram posts from this week. She's reportedly had possession of the ring all along, but didn't wear it while Liam wasn't in the picture — so the timing doesn't seem like a coincidence.
Now the question is: When's the new wedding date?! Neither Cyrus or Hemsworth have confirmed the relationship, but supporters of their relationship think it's only a matter of time.
Image: Michael Buckner/Getty Images Entertainment