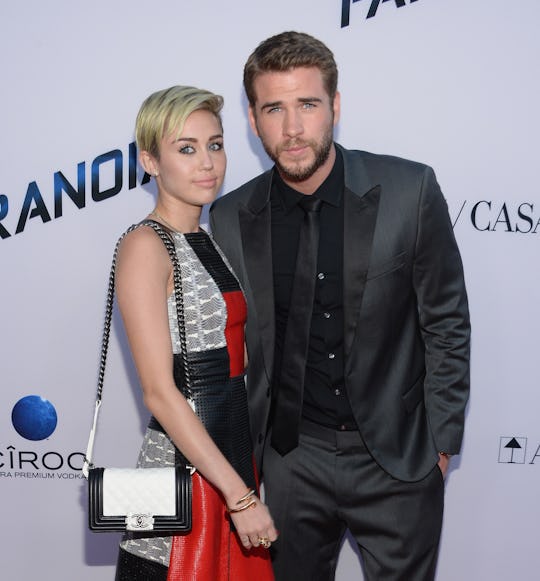 Are Miley Cyrus & Liam Hemsworth Engaged Again? There Are Some Major Signs
Though the couple spilt in 2013, Miley Cyrus and Liam Hemsworth might be back together again. The duo were spotted together on New Year's Eve in Australia's Byron Bay, according to the Huffington Post. Then, on Sunday, Cyrus was wearing the engagement ring that Hemsworth proposed with in 2012. Are Miley Cyrus and Liam Hemsworth engaged again? The couple hasn't confirmed the rumors, but the signs seem pretty positive.
Cryus was reportedly spotted walking through JFK Airport in New York on Sunday wearing a ring on her left ring finger that looked very similar to the 3.5-carat Neil Lane gold and diamond bauble that Hemsworth proposed with in 2012, according to the Huffington Post. A friend of Cyrus' told Us Weekly that she had struggled to get over Hemsworth:
She says she's always loved Liam and always will. She never really got over Liam.
On Monday afternoon, Cyrus also Instagrammed a photo of herself wearing a bright green and silver polka dotted top and matching hat with a hot pink coat (hey, it's Miley). The ring can easily be seen in the photo and it almost looks as if Cyrus made the move strategically.
The photo was captioned "I look like a fucking strawberry. #looklikemyfuckingmomdressedmethisam #prettysureihadthissamelookat." Though she doesn't ring mention the ring directly, it's kind of hard to miss in the photo.
An exclusive source told Hollywood Life that the couple is definitely back together and that they've realized what a strong bond they have:
Now that her and Liam are back together, she doesn't want to ever let him go again. While they were apart, she realized even more what she had with him. He just gets her and knows the real Miley, and she appreciates that.
The couple still hasn't confirmed the relationship or rumored engagement, and maybe they're staying out of the spotlight for a reason. Regardless, it would be adorable — and, now, very sparkly – news.
Image: Jason Kempin/Getty Images Entertainment; Miley Cyrus/Instagram