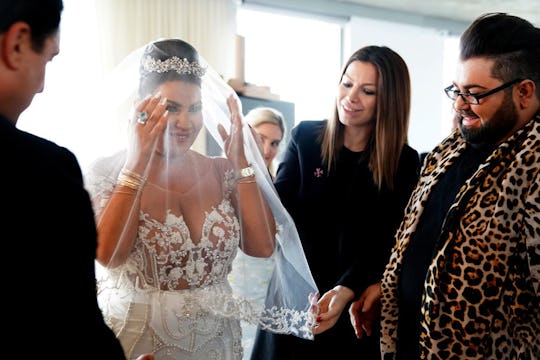 Nicole Weingart/Bravo
MJ & Tommy From 'Shahs Of Sunset' Are Expecting A Baby
The seventh season of Shahs of Sunset concluded with Mercedes "MJ" Javid's wedding to Tommy Feight, but that was only the beginning of a new chapter in her life. While fans of the show might have to wait until the next season rolls around to get all the day-to-day details Bravo is so good at capturing, some questions can be answered before that. The newlyweds were planning to start a family, but are MJ and Tommy from Shahs of Sunset going to have a baby?
Indeed they are! A mysterious source confirmed the news to Us Weekly in early October of this year, though it wasn't a total surprise. MJ had previously discussed freezing her eggs with the publication, preparing for just this eventuality. She and Tommy were also in the middle of the in vitro fertilization (IVF) process at the time of the interview. Sharing that journey was important to MJ, both to raise awareness for women in the same position as she was (over 35 years old, single, and planning to have kids in the future) and to show how tough the struggle to conceive could be.
"The truth is that I have a lot of ups and downs, moment to moment, especially on the hormones from IVF stuff," she said. Sometimes she felt great, and other times awful; sharing that via social media was a way to connect with others who had been through it or would go through it.
MJ herself confirmed her pregnancy to Entertainment Tonight while simultaneously revealing that she and Tommy were going to have a son. She described her pregnancy as a "huge blessing," especially because it was preceded by the tough time she had with IVF, as well as several surgeries she had to remove uterine polyps before the embryo could be implanted.
The pregnancy also followed an emotionally difficult period in her life that came with the passing of her father, Shams Javid. She said she was "really happy to open a new chapter," later adding, "I'm hoping that my baby will remind me of my father and, of course, have a piece of Tommy and me. It's the cycle of life."
MJ credited her new husband with being her biggest source of support, saying:
He's been with me and present for every step of the way. When you get IVF done, there is a 10-day waiting period where you come back to get a blood and urine test and we did that together as well... I really love to see how happy Tommy is and how excited and nervous. You know, he gets to be a father!
Her co-stars on Shahs of Sunset were there for her, too, and they expressed their excitement about the pregnancy to Bravo. Destiney Rose told The Daily Dish that MJ would be "an amazing mom," a sentiment echoed by MJ's bestie Reza Farahan. He also noted how proud he was of MJ for going through so much, calling the way she handled things "inspirational."
MJ and Tommy might have a few more months to go before they welcome their son, but it seems like they're off to a great start.