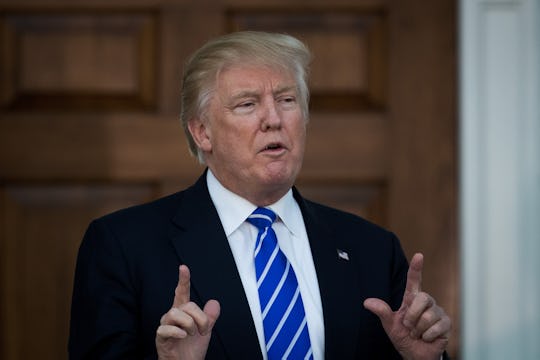 Drew Angerer/Getty Images News/Getty Images
Are Most of Trump's Cabinet Picks Wealthy? It Could Be The Richest In American History
Since his election, President-elect Donald Trump has used his new title to give Cabinet-level jobs to some of the richest Americans. It seems when Trump said he wanted to be the "jobs president" he meant a federal employment program for the one-percent. Are most of Trump's Cabinet picks wealthy? You be the judge.
According to the Washington Post, Trump is assembling what will be the richest administration in history. They range from simple multi-millionaires, to billionaire heirs, and hedge fund tycoons, all of which Trump is assembling, according to his campaign promises, to form a super-team to rescue America's struggling middle and working classes.
"I will be the greatest jobs president that God has ever created," he announced along with his candidacy, according to the New York Post. So who are his Cabinet-level hires so far to help him deliver on that pledge?
There's Betsy DeVos, the new Education Secretary the billionaire daughter of Richard DeVos, the founder of Amway, a multi-level marketing company, worth north of $5 billion, according to Mother Jones. The public records at OpenSecrets show the DeVos family has donated millions to Republican causes over the years.
Wilbur Ross has been appointed by Trump to Commerce Secretary. According to the Washington Post, he a Rothschild's bankruptcy banker worth an estimated $2.5 billion.
Todd Ricketts has been named as Ross' deputy at Commerce, and he's not exactly broke either. His father and Ricketts family patriarch Joe, founded TD Ameritrade, and Todd is a co-owner of the Chicago Cubs, according to the Chicago Tribune. According to Forbes, the Ricketts family is worth more than $5 billion.
Hollywood Producer and second-generation Goldman Sachs banker Steven Mnuchin is Trump's pick for Treasury Secretary. According to the New York Daily News, Mnuchin, who is estimated to be worth more than $40 million, allegedly made $3 million off of the Bernie Maddoff ponzi scheme. He and his billionaire partners also reportedly, according to NPR, bought a failing California bank and ran it as a "foreclosure machine" at the height of the housing crisis, ultimately making billions off the deal. Mnuchin currently runs a hedge fund, Dune Capital Management, in addition to producing Hollywood blockbusters like Avatar, Suicide Squad, and American Sniper, according to CNN.
Steven Mnuchin's office has not responded to Romper's multiple requests for comment on his previous business dealings and the alleged involvement with Bernie Maddoff.
So what's the problem with Trump hiring a bunch of rich folks to run the country? Is that really such a big deal?
"This isn't a criticism or a conspiracy ... but it's important to recognize that everyone's perspective and policy and government is shaped by the kind of life you've lived," Nicholas Carnes, a political scientist at Duke University told the Washington Post about Trump's Cabinet picks. "The research really says that when you put a bunch of millionaires in charge, you can expect public policy that helps millionaires at the expense of everybody else."
Sounds like the populist Trump might not be willing to shake things up as much as he led his voters to believe he would.