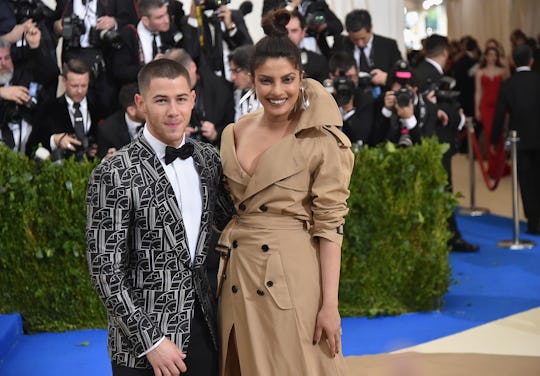 Mike Coppola/Getty Images Entertainment/Getty Images
Nick Jonas Flew Solo At The MTV Movie & TV Awards, So What's Going On With Him & Priyanka Chopra?
Rumors have been buzzing all around that Nick Jonas and Priyanka Chopra are officially a romantic item. But at the MTV Movie & TV Awards, he appeared on the red carpet stag, which must be confusing to some of his fans. So are Nick Jonas and Priyanka Chopra dating or are they just friends? It's all so confusing.
Speculation had been brewing about the two ever since they posed together at the 2017 Met Gala awards, according to Harper's Bazaar, until it was revealed later on that they were simply both dressed by Ralph Lauren and honoring the designer by getting a snap together. Jimmy Kimmel asked her about it afterwards, making a joke about their age difference (Jonas is 25 years old and Chopra is 35 years old), as reported by People.
She answered at the time, according to People, "We were both wearing Ralph Lauren and we decided to go together. It was fun. I didn't ask his age. Eleven?" The Quantico star added in the same interview, "We were on the same table and we already know each other. So he was like 'Hey, you wanna go together?' And I was like 'Yeah, okay, let's go together.' It ended up working out."
So, really, it was nothing. But since then, the two have been spotted out and about at various events together, according to GQ India, and commenting on each others' Instagram photos and everything.
Most recently, Jonas reportedly took Chopra as his date to a family wedding, according to People. "It's a huge deal that Nick brought Priyanka to his cousin's wedding," a source reportedly told People. "... Nick and Priyanka really like each other, and his family enjoyed getting to know her as well." The two were also spotted attending a Los Angeles Dodgers game together, according to ELLE, and a witness reportedly told the Inquistr that, "Priyanka and Nick were talking really closely and were very smiley and very happy."
Let's just get this straight though — neither Jonas nor Chopra has confirmed that they are a couple. If anything, they could also just be super close friends or testing the waters of a relationship, or simply living their best life. Flirtatious comments and walking around New York City or West Hollywood to catch a quick dinner doesn't always have to mean a lifetime commitment.
They obviously, at the very least, aren't committed enough that they wanted to walk the red carpet together at the MTV Movie & TV Awards or publicly goes as each other's plus one to the Duke and Duchess of Sussex's wedding last month. So, all of the fans out there stanning the duo (or drying their tears that either one of them might be taken) should probably slow their roll.
They've been flirting with each other on social media and spotted together on and off ever since the Met Gala last year, though anonymous sources told Us Weekly that it wasn't until just recently that things started to get romantic.
The age difference isn't totally egregious either, not like it's anyone's business anyways. They've both been in the entertainment industry for most of their lives, so they likely get what each others' life and can relate to each other on that level. Again — if they're actually together. Women and men can also be very good, affectionate friends to each other without something else going on.
But they'd definitely make a great couple if they rumors are true. Fans will just have to wait until they're ready to make some sort of statement to find out, though.