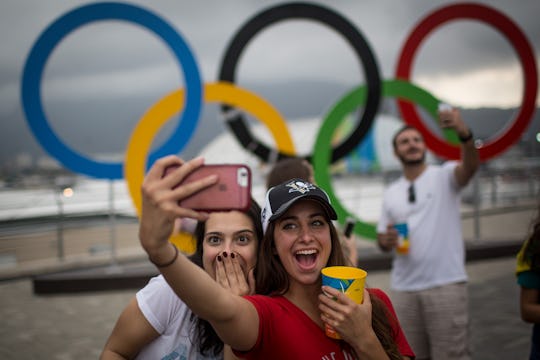 Chris McGrath/Getty Images News/Getty Images
Are Olympic Spectators Catching Zika In Rio? Fans Should Still Take Precautions
In the run up to the Summer Olympics in Rio de Janeiro, Brazil, many elite athletes have expressed concerns about competing in a region so rife with the Zika virus — concerns strong enough to have kept several Olympic athletes home. The mosquito-borne disease can cause everything from debilitating birth defects in newborns, to partial paralysis by inducing Guillain-Barre Syndrome. But what about the crowds: Are Olympic spectators catching Zika in Rio? First, the good news: There doesn't appear to be even a single reported case of an Olympic fan having contracted Zika.
Even so, that doesn't mean that every Olympic tourist will go home Zika-free: Many people who contract the Zika virus don't show symptoms, so they might not even know they have it — and could risk infecting others, as Zika can be transmitted sexually. But thankfully, it's winter in Brazil right now, which means that the chances of Olympic spectators actually catching the disease is exceptionally low right now. A study published in the Annals of Internal Medicine last month posits that fewer than 100 people will actually contract Zika at the Olympics in Rio: The Yale School of Public Health study even narrowed down the likelihood that Zika cases at the Olympics could be as few as six to as many as 80 total.
Both the Centers for Disease Control and Prevention and the World Health Organization agreed that there was no need to postpone or cancel this year's Olympics in Rio due to the threat of Zika — but that doesn't mean that traveling to a Zika-affected region is a risk-free adventure. Rio2016's Chief Medical Officer Dr. João Grangeiro spoke with Paste about the threat of Zika transmission at the Olympic games:
Historically, at the time of year when the Olympics will take place, August and September [winter months in Rio de Janeiro], we have extremely low indices of infestation of the aedes aegypti mosquito...
Grangeiro continued that looking at historical data over the past decade confirms this trend in decreased numbers of the mosquito species that can carry and transmit Zika:
It [Zika] does not pose a risk to the athletes—or for anyone—coming to Rio de Janeiro during this time of year. These numbers are based on dengue, Zika, and chikungunya, which are the diseases transmitted by the aedes aegypti.
Grangeiro also relayed that many preventative measures were implemented to combat the threat of Zika among athletes and spectators, including the elimination of mosquito breeding sites and even air-conditioned rooms in the Olympic Village, so that athletes can keep their windows closed. Of course, there is some level of personal responsibility when it comes to tourists taking precautions against Zika for themselves, including wearing long sleeves and pants and applying insect repellent.
While the statistical chance of contracting Zika at the Olympics is extremely low, it's always better to be safe than sorry — and in truth, it's more likely that Olympic spectators or athletes could catch dengue fever in Rio right now.