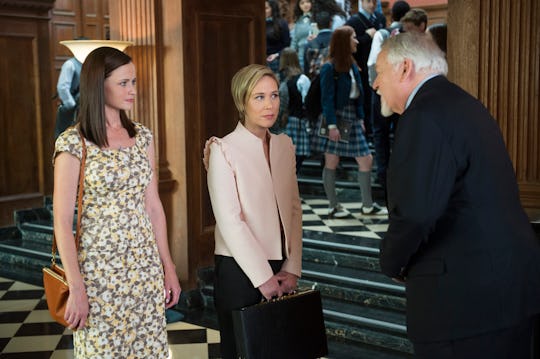 Neil Jacobs/Netflix
Are Paris & Doyle Together In The 'Gilmore Girls' Revival? Their Relationship Has Changed
(Warning: This post contains spoilers from Episode 1 of the Gilmore Girls revival.) Over the years, Gilmore Girls has seen its share of relationships come and go, particularly from Lorelai and Rory, but one of the more solid partnerships was the slightly offbeat and highly energetic one between Paris and Doyle. So now that the revival has come, we're all wondering are Paris and Doyle still together in the Gilmore Girls revival? It's so rare to find someone whose neuroses match your own so perfectly. Apparently, as it turns out, these two weren't met to be.
When we first catch up with Paris Gellar, she's running a fertility and surrogate clinic, and trying to talk Luke and Lorelai into having a child via surrogate with one of her "top breeders," the same women who have born children for Neil Patrick Harris, by the way. Soon thereafter we learn that Paris and Doyle eventually got married, except that now they're getting a divorce. As Paris said, "Frankly, it was over the minute he wanted to do something creative." It turns out that Doyle decided to become a script writer, and he was actually successful at it, which may have brought him the satisfaction he was looking for in his life, but it ended his marriage to Paris.
Among the many complaints about Doyle included "He's flying out to 'the coast' as if this is not a coast," and he's drinking vodka "because it's less calories." This is when I start to feel a little bad for Doyle. Divorce is never easy, but it's got be a particular kind of hell trying to divorce Paris. Just one of her threats against her soon to be ex-husband, "He'll be using that Def Leppard t-shirt to clean my windows." Who knows what kind of ringer she'll be putting him through. She even asked Rory to say in the deposition that Doyle felt her up at a Christmas party (which Rory declined to do, of course).
She also asked if maybe Paris was ready to give it another chance. After all they have kids. But Paris is determined. At least we can be sure that the Paris and Rory are sticking together. Though Rory is still friends with Doyle, if it comes to making t-shirts, Rory is definitely Team Paris all the way. As are we all, because honestly, I'd be afraid to go any other way.