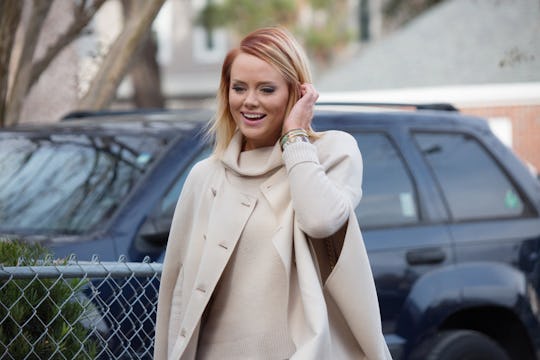 Paul Cheney/Bravo
Patricia Has Had A Change Of Heart About Kathryn On 'Southern Charm'
Alliances are always shifting on Bravo shows, with various scuffles and arguments causing falling-outs numerous times per season no matter what the series is. Patricia Altschul and Kathryn Dennis have never been particularly friendly, but is it possible that that has changed now? Are Patricia and Kathryn getting along after Southern Charm?
They might not be besties any time soon (though who knows what could happen in the future) but things might be slightly improving between the two of them. At the very least, it seems like they're becoming more understanding of one another. During an appearance on Watch What Happens Live with Andy Cohen, Kathryn said that she thought their similarities might have been what bothered Patricia in the first place.
"I think that when she sees me, she sees something in herself that she resents," Kathryn said. "Maybe, kind of like a mirror. I don't know. That's kind of a broad way to put it, but I think that's the root of it all 'cause none of it makes sense otherwise."
Craig Conover explained to Entertainment Tonight that Kathryn wasn't inspiring quite so much vitriol among the cast as she used to, and that extended to Patricia as well. "Patricia, she doesn't say mean stuff about Kathryn anymore," he said. "[Kathryn] was always normal to me, but she's not, like, this polarizing, negative person anymore."
Kathryn has paid homage to Patricia before, citing her beautiful home as the inspiration for Kathryn's new apartment. She said that she based the look of her vanity, with all the makeup and brushes on display, on Patricia's. "I wanted it to look like Patricia's; I was idolizing her vanity in the bathroom," Kathryn told The Daily Dish. "I'm not even gonna lie — she's like really queen of a real castle that exists. I don't know, goals, I guess."
Though they may have had their disagreements before, it sounds like Kathryn and Patricia have each been able to cut the other some slack on occasion. Kathryn can give Patricia props for her decorating, and Patricia could express a little hope for Kathryn's future. Before Season 5 began, Patricia appeared on Watch What Happens and told host Andy Cohen, "I would be a hypocrite if I said I was yearning to get to know [Kathryn] better. However, I am hopeful that she will turn her life around this year."
Now that Kathryn is in a more secure and settled place, it seems like Patricia has cooled it on the criticism. And after it became public knowledge that Patricia had blocked Thomas Ravenel on Twitter, she seemed to become even more supportive of Kathryn. Apparently Thomas was partially responsible for the bad blood between them, at least in Patricia's opinion. As reported by Bustle, Patricia tweeted:
Why people ask? Because of his and Ashley's smear campaign, character assasination, lies and purposeful defamation. It made me reassess everything Thomas said to me about @KathrynDennis who has clearly turned her life around while they are on a downward spiral
And it didn't stop there. Patricia appears to have had quite the change of heart, starting to invite Kathryn to events and praising her sobriety. "I no longer believed the lies Thomas and [girlfriend Ashley Jacobs] had been telling me about her," she tweeted in response to one fan.
Now that Patricia isn't quite as friendly with Thomas, it seems like she's warming to Kathryn. These new positive feelings might not be enough to erase the problems the two women have had in the past, but it's a good start. By the time Season 6 premieres, they might be well on their way to becoming actual friends.