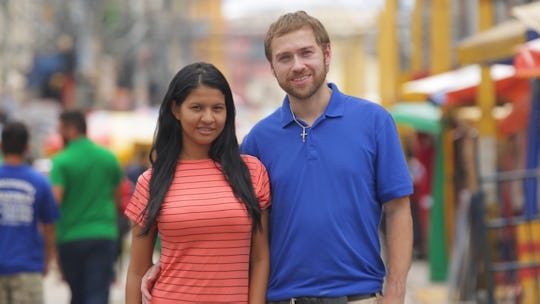 TLC
Some Fans Believe This 'Before The 90 Days' Couple Are Secretly Married
Watching people find love on reality TV will never not be fascinating, and I always find myself rooting for even the most unlikely of couples. For example, I would love to see Kentuckian Paul and Brazilian Karine from 90 Day Fiancé make their relationship work — despite the fact that they literally don't speak the same language. So, are Paul and Karine married after 90 Day Fiancé: Before the 90 Days? They've gone back and forth.
In February, a supposed wedding photo of Karine and Paul popped up online. Furthermore, Karine changed her last name on social media to Paul's last name, Staehle. But two days later — which happened to be Valentine's Day — Paul said that he and Karine never married and that they faked it. This came about because Karine was accused of cheating. In Touch reported that Paul wrote as his Facebook status, "Guess it is a good thing I never got married..."
Prepare for some whiplash, though, because according to a source close to Karine — the friend she supposedly cheated on Paul with — the two were, in fact, married. Paul denied ever marrying Karine because he believed she cheated on him with a man named Joe. "Karine has ordered I leave Brazil," he wrote on Facebook according to In Touch. "I wish you and Joe the best." That Joe in question is Joe Vito, who not only said Paul and Karine were married, but that she did not cheat.
In an interview with In Touch, Joe spoke out about his relationship with Karine. "She was with Paul at the time — which I didn't know she had a husband when I started talking to her either," he said. Joe said that Karine referred to Paul as her husband. Karine had initially reached out to him for fitness advice because, as his profile suggests, he's a fitness enthusiast.
Karine said Paul started "freaking out" that they were talking, so Joe actually messaged him on Facebook to let him know he was gay and happily taken — so there was nothing to worry about. Regardless, Paul left Brazil — and Joe thinks it's all for the Before the 90 Days drama. He told In Touch, "He already had to leave Brazil because of federal law because his visa expired ... It's just been a whole big spin-up of drama, in my opinion, to secure his place on the next season of the show."
The on-again-off-again couple were officially on again in April, when Karine threw a birthday Party for Paul. According to his post on Facebook, he never actually left Brazil and is getting a degree online.
All of this will be surely be discussed in this season of 90 Day Fiancé: Before the 90 Days. In a clip of Paul and Karine obtained by The Wrap, Paul is worried that Karine is talking to other American men online. They themselves met online, so Paul feels like that's the only explanation as to why Karine is commenting on other guys' Instagram accounts.
Joe is discussed by name in the clip. Paul tells Karine, "I've noticed a lot of flirtatious comments on a guy named Joe's page." In a confessional Paul said, "You know, I see these shirtless pictures and it's just concerning. You know, why is she even talking to these guys like that?"
According to The Wrap, the show will follow Paul and Karine's relationship from the beginning to the process of getting a K-1 Visa. Considering the clip was all about Joe, hopefully the series shows Paul and Karine's wedding.