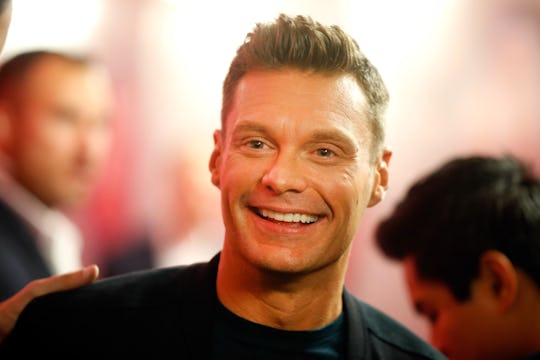 Isaac Brekken/Getty Images Entertainment/Getty Images
People Think Celebs Are Avoiding Ryan Seacrest At The Oscars & It's Super Awkward
An awards show institution came with an interesting twist this year. Twitter was abuzz with speculation that people were avoiding Ryan Seacrest at the Oscars red carpet after the E! star's former stylist accused him of sexual misconduct. Seacrest has denied the allegations, and issued a statement in November 2017 in which he voiced his support of the #MeToo and Time's Up movements before addressing his own role.
Seacrest's statement in response to sexual assault allegations was reported by The Hollywood Reporter at the time. It invoked his innocence and offered sympathy to women affected by sexual violence. "Recently, someone that worked as a wardrobe stylist for me nearly a decade ago at E! News, came forward with a complaint suggesting I behaved inappropriately toward her. If I made her feel anything but respected, I am truly sorry. I dispute these reckless allegations and I plan to cooperate with any corporate inquiries that may result," he wrote. Seacrest also said that he was "distraught" that his legacy in the industry was under fire, and called himself "an advocate for women" who worked to "support their voices."
We heard from Seacrest again after E! concluded its internal inquiry, finding a lack of evidence. At that point, he issued another statement, if not one that ultimately sated concerns among the public. In February, he wrote, "Ultimately, my name was cleared. I eagerly participated in the investigation in order to demonstrate my innocence because I know my truth, and I believe in due process," as reported by IndieWire.
Still, there was a curious lack of celebrities turning up to speak to him on Sunday night, and his cohost Giuliana Rancic didn't fare much better, which had people wondering if the stars were going out of their way to avoid getting caught up in the scandal, as though they were worried that confessing to the red carpet veteran who they were wearing might be seen as a tacit endorsement.
The lack of a statement from celebrities made it hard to parse the mood on the ground, but Twitter had strong feelings about the absence of red carpet interviews early in the show.
Stylist Suzie Hardy worked with Seacrest from 2007 to 2013, during which time she claims her employer committed multiple offensive acts such as "grinding his erect penis against her while clad only in his underwear, groping her vagina, and at one point slapping her buttock so hard that it left a large welt still visible hours later," according to Variety. Hardy further alleged that she was fired after complaining about Seacrest to human resources.
Last November, Hardy's attorney issued a letter to Seacrest, E!, and its parent company, NBCUniveral detailing her claims. Seacrest then made a statement announcing that E! was investigating "reckless allegations" against him.
Seacrest's attorney, Andrew Baum, told Variety that his client made the announcement after Hardy "threatened to make those false claims against him unless he paid her $15 million," but provided no evidence of such a threat. Hardy's attorney said that neither he nor Hardy has asked anyone for any money.
In February, E! announced that the independent counsel tasked with investigating Hardy's claims had found "insufficient evidence" to support them, according to The Hollywood Reporter. Hardy countered that the investigator had neglected to contact several witnesses who could have corroborated her story, a claim that E! denies.
Which brings us to now.
An hour in, and Seacrest's interviews were few and far between.
The network's red carpet coverage has been repeatedly questioned by stars and the public lately, thanks to a series of missteps. In January, with the #MeToo and Time's Up movements at the forefront of the event, Rancic and Seacrest tried — and some say failed — to pay homage by female actors for their thoughts on the recent tidal wave of sexual harassment allegations against powerful men in Hollywood. But as the Huffington Post reported, they neglected to include men in the conversation, making it seem as though women alone were responsible for solving the problem.
The network has also come under fire for accusations of pay inequality that led to the resignation of former E! News host Catt Sadler, and a slew of scandals, both major and minor, that resulting in the cancellation of Fashion Police. In a Howard Stern Show appearance last week, Jennifer Lawrence cited these issues as reasons that she was considering skipping the red carpet, according to People.
So, at a watershed moment that has already resulted in much change, the Oscars embodied the friction between the establishment and the radical power of #MeToo. Amid a divided red carpet, much of Twitter had come to its own verdict.
Check out Romper's new video series, Bearing The Motherload, where disagreeing parents from different sides of an issue sit down with a mediator and talk about how to support (and not judge) each other's parenting perspectives. New episodes air Mondays on Facebook.