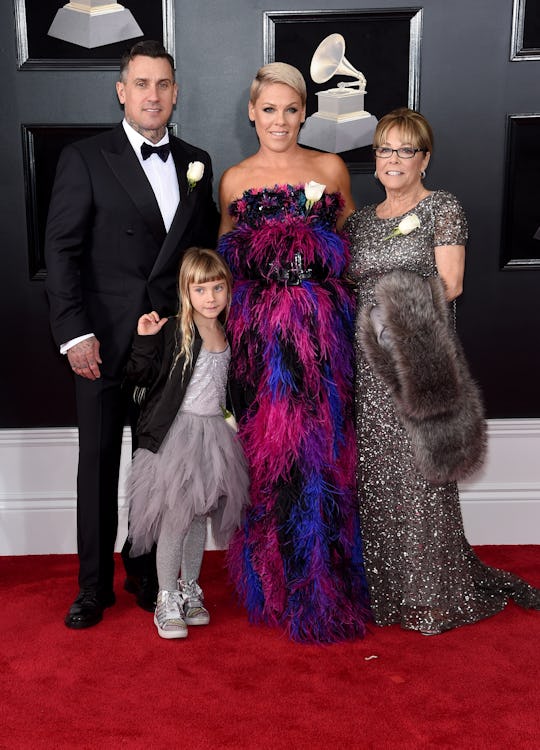 Jamie McCarthy/Getty Images Entertainment/Getty Images
Pink's Super Bowl Fan Section Is Full Of Supportive Family Members
Justin Timberlake may be doing the halftime show at the Super Bowl, but I'm here to see Pink, who's singing the National Anthem at the start of the game. Lately Pink has brought her whole family to major events (like the Grammys) so I'm probably not the only one keeping my eyes peeled for for Pink's parents at the Super Bowl. Honestly, I expected them to show up to watch Pink (who they probably just call Alecia) do the honor of singing the "Star Spangled Banner" and to watch the game, of course. What's the point of having a famous daughter if she can't get you tickets to the Super Bowl?
The last time we saw Pink's mom, Judith Moore, was recent. Pink charmed everyone at the 2018 Grammys when she brought not just her adorable daughter Willow, but also her mom. Pink shared a couple of super sweet photos on her Instagram of herself and Moore at the awards. In one post she wrote, "My mom had fun and looked so fancy I can't stand it." So clearly, she's one to share the spotlight with her family. And considering that Pink is actually from Pennsylvania and an Eagles fan, it would be even more special for her to bring her family along to see it.
On Saturday, Pink confirmed at least one member of her immediate family would be joining her at the game. She posted a video of her brother singing the Eagles flight song on his flight to the Super Bowl over the plane's P.A. system. It wasn't immediately clear whether her parents were with him also, but I love that she shares the love.
Considering the fact that she has been vocal about the love for her family, it totally makes sense that she would bring all of them along for this big day. Super Bowl tickets can go for thousands of dollars, so it must be nice to have an in. As far as Pink's dad, Jim Moore, goes, she didn't bring him along to the Grammys this year, but she's definitely shown up with him at other events and he's been a major part of her career. She performed a duet with her father, who is a Vietnam vet, on her album I'm Not Dead back in 2006. Her dad wrote the song while in Vietnam and Pink says it was the first song she ever performed.
Pink posted a photo on her Instagram account of her rehearsing the performance, while battling the flu no less, in time for the game on Sunday. She wrote in the caption, "I will tell you, this is one of the biggest honors of my life, singing this song in front of my family, my military family, my dad and brother and step mama and family and the world. And the EAGLES!?!?! I promise I will do my best, as I always do." It doesn't mean necessarily that all of these people will actually be at the game with her (they could just be watching on TV) but considering how close she appears to be with all of her family, it totally makes sense that they're there.
Not everyone is lucky enough to have such close relationships with their family, so it's definitely nice to see how supportive she and her family are of one another. So like any proud parents, I expect to see Pink's mama and papa along with her husband, Carey Hart, and the couple's two kids there to cheer her on as she performs "The Star Spangled Banner" in front of the whole country.
Check out Romper's new video series, Romper's Doula Diaries:
Watch full episodes of Romper's Doula Diaries on Facebook Watch.