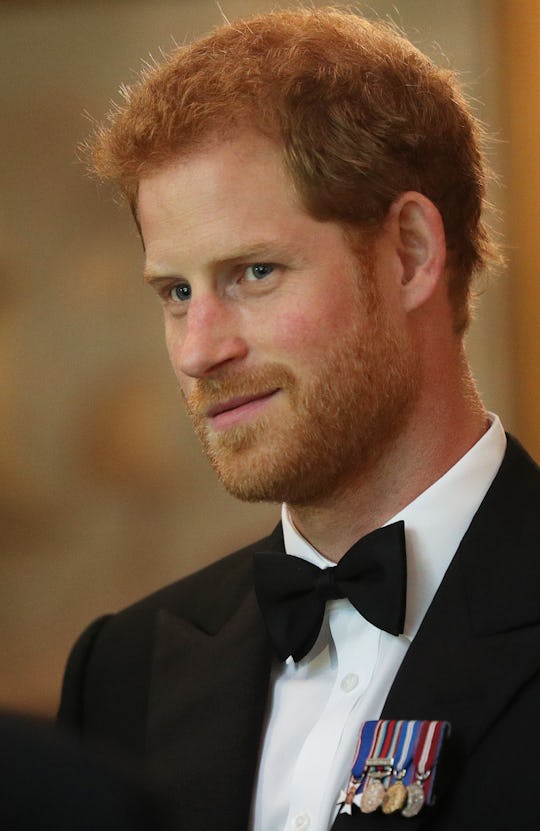 WPA Pool/Getty Images Entertainment/Getty Images
Are Prince Harry & Megan Markle Already Engaged?
Prince Harry and Meghan Markle are certainly no strangers to marriage rumors — they've pretty much been swirling around the couple since they first got together over a year ago. And while the private couple hasn't commented on their future plans, tying the knot doesn't exactly seem out of the question. But a new report by Us Weekly reveals that, actually, it's also entirely possible that Prince Harry has already proposed. So, are Prince Harry & Meghan Markle engaged? Sources tell the magazine that the prince was intending to propose to Markle during a trip to Africa earlier this month, and that they could just be keeping the exciting news under wraps.
According to Us Weekly, the romantic royal is said to have pulled out all the stops for the special trip, beginning with a surprise party with friends for Markle when they arrived in Botswana Aug. 4. And while sources say Prince Harry has kept the details of his actual proposal plans to himself, he's said to have worked with a jeweler to create a custom ring for Markle, featuring diamonds taken from a brooch belonging to his late mother, Princess Diana. Then there's the fact that a getaway to Botswana seems like it would be Prince Harry's natural choice for the perfect proposal location: he's called the African country his "second home," and has said it's where he feels most like himself. Not to mention that it would also be a bit of a family tradition — in Oct. 2010, Harry's brother Prince William proposed to the Duchess of Cambridge on vacation in Kenya, according to Marie Claire, as he too feels a special connection to Africa.
If Prince Harry has proposed to Markle, it's also possible that he may have opted out of giving her a ring just yet. UK tabloid The Daily Star has reported that, since Prince Harry technically needs permission from Queen Elizabeth II to formally get engaged, he chose instead to give Markle a beaded "Zulu betrothal bracelet," similar to the matching blue, white and black beaded bracelets they already wear.
But other outlets have said that it's also possible that the two won't actually announce their engagement until later this year. According to Hello!, Darren McGrady, Princess Diana's former head chef at Kensington Palace says he expects that other important dates on the royal calendar would mean that Prince Harry would likely opt to wait to make their engagement public. He said,
But with Princess Diana's 20th anniversary this month in August, they can't trump that. And then November is the Queen and Prince Philip's platinum wedding anniversary so they can't trump that either, whereas December they can announce the engagement and they'd be free to marry next year.
Although a December engagement may be further away than many royal watchers are hoping for, McGrady also noted that it will at least mean that Markle will be invited to join the royals at Sandringham for Christmas, which is an annual tradition for the family.
For now though, the couple appears to be keeping any happy news quiet, and given the fact that going public will likely involve all kinds of scrutiny and attention, that makes a lot of sense — especially since technically appear to still be involved in a long-distance relationship (according to The Daily Mail, American-born Markle currently lives in Toronto, Canada). And though they are said to see each other often, the possibly-newly-engaged couple probably wants to try to enjoy their private time together as long as they can before making anything official.