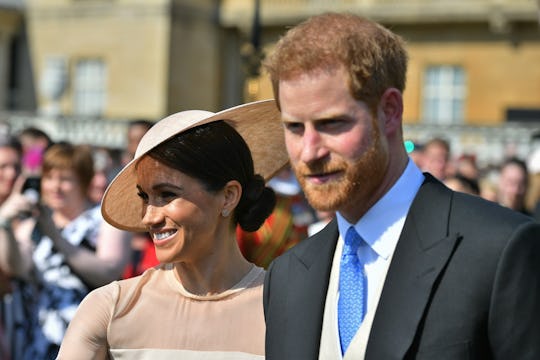 WPA Pool/Getty Images Entertainment/Getty Images
Here's Where Prince Harry & Meghan Markle *Might* Honeymoon (Hint: It's Not Africa)
Last Saturday, Prince Harry and Meghan Markle traded vows at St George's Chapel at Windsor Castle. The event was a breathtaking affair, to say the least, and many fans are *still* talking about the nuptials. As for Harry and Meghan, however, they're ready to move forward as husband and wife. And the first order of business Harry and Meghan have to complete as a newly married couple is their honeymoon. Unfortunately, it's rumored that Harry and Meghan keep changing their honeymoon destination due to security concerns. So, where will Harry and Meghan honeymoon now? Get excited Canadians, because Prince Harry and Meghan Markle *might* honeymoon in Canada, according to Monday report from TMZ. Apparently, the new honeymoon spot (they were originally supposed to honeymoon in Africa, remember?) is a top vacation getaway for famous people. Trés chic.
When you're a royal, planning your honeymoon can be tough. For starters, you can't just book a last minute getaway through Orbitz or Airbnb. Not to mention, there's *a lot* of planning that goes into a royal honeymoon. From choosing security personnel to take part in the trip to coordinating with the hotel about privacy concerns, there are a ton of factors to consider when high-profile people are involved. So, it's really no surprise that Harry and Meghan are having a difficult time finding a place to celebrate their nuptials.
Of course, all of these changes are confusing to fans who are curious about Meghan and Harry's post-wedding plans. And on that note, here's a quick recap of all the rumored honeymoon destinations. The first supposed spot is Namibia, Africa, a location that Travel & Leisure reported on in April. Apparently, a connected "source" confirmed this destination to the publication. About a month later, however, The Sun reported that Meghan and Harry would venture off to Botswana, South Africa, Hawaii, and Ireland. Color me confused.
As for the latest honeymoon destination that's being bandied about, look no further than the Fairmont Jasper Park Lodge in Alberta, Canada, according to TMZ. Per the outlet's report, Harry and Meghan will enjoy a 6,000 sq. ft. "Outlook Cabin" known as "The Royal Retreat." Sounds cozy, eh?
Although it's not clear when Meghan and Harry might arrive at this woodsy locale, it's obvious this destination has a rich (figuratively and literally) history. Former guests include, according to TMZ: "King George VI and Queen Elizabeth The Queen Mother, Queen of the United Kingdom and Prince Philip, Duke of Edinburgh, Anthony Hopkins, John Travolta, and Bill Gates." River of No Return, starring Marilyn Monroe, was also filmed at Jasper Park Lodge, according to IMDb. Talk about a fancy spot.
If this is where Meghan and Harry will honeymoon, it makes a lot of sense when you consider the couple's ties to the area. Meghan did film Suits in Canada, after all, and Alberta is about a 3 hour flight to her former home in Los Angeles. It makes sense on paper.
The only problem with this rumored location is that the press knows about it now. And if people know about the honeymoon spot, there's a good chance it will be changed for privacy reasons. Royal expert Ombid Scobie explained, according to ELLE:
If a location leaks prior to travel, it compromises their safety on the trip, and they'll be advised by their protection team to change plans. William and Kate's protection officers ended up doing recon on two destinations before they settled on the Seychelles for their 2011 honeymoon. I heard that just over a month before the wedding, Harry and Meghan hadn't even booked a destination, so these plans have come together rather quickly!
Sheesh, what a headache. I bet all of these changes are frustrating for Harry and Meghan. That being said, I'm confident the two will be able to figure it out eventually. Who knows, maybe Harry and Meghan are on a private honeymoon at this very moment.