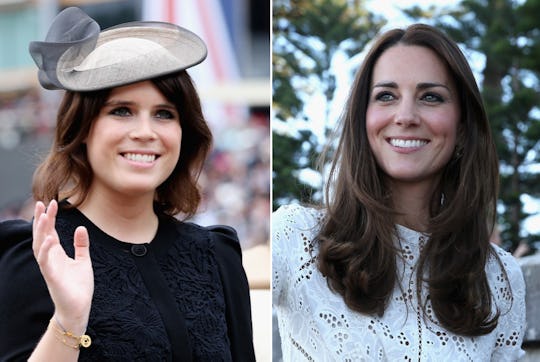 Chris Jackson/Getty Images Entertainment/Getty Images/ Chris Jackson/Getty Images Entertainment/Getty Images
Everything You Need To Know About Princess Eugenie & Kate Middleton's Friendship
Although there might be some pretty famous guests at Princess Eugenie's royal wedding this week (ahem, Queen Elizabeth II), all eyes will be on the cutest guests at the royal wedding — Prince William and Kate Middleton's kids, Prince George, Princess Charlotte, and maybe Prince Louis... if we're lucky. The duo are confirmed to be in Princess Eugenie's wedding, which is super exciting. But with Middleton's kids in the wedding, surely people have to be wondering if Princess Eugenie and Middleton are friends. Because why else would she have her kids play such a huge role, right?
Princess Eugenie has quite a lot of friends, according to Cosmopolitan, many of whom just so happen to be famous, therefore making her upcoming royal wedding a star-studded affair. Princess Eugenie is friends with singer Robbie Williams, model Karlie Kloss, and actor George Clooney (just to name a few), according to Cosmopolitan, which is something to be pretty envious of, indeed. Sure, her wedding guest list might not include Oprah (leave that to her cousin, Prince Harry), but there are still some pretty special names on the list, nonetheless.
One of these people attending the royal wedding will be Middleton, according to The Cut, but doesn't necessarily mean that she and Princess Eugenie are super close. Although the two have never publicly spoken about their relationship, it's safe to say that they are pretty friendly — especially since Princess Eugenie and her sister, Princess Beatrice, were invited to Middleton and Prince William's wedding in 2011 (where they got attention for their scene-stealing hats), according to People.
And since then, Princess Eugenie and Middleton have made quite a few royal appearances together, according to the Daily Mail. They might not be the kind of friends who have sleepovers and tell each other secrets, according to PopSugar, but they definitely are friends.
If the two weren't friends, then things might get a little weird at family functions or around their own homes. Princess Eugenie and Middleton are neighbors, according to The Telegraph, so the two of them reside in Kensington Palace, full time. This means they're probably familiar with seeing each other in a casual setting in addition to seeing each other during their royal duties and have probably gotten to know each other very well.
And since Princess Charlotte and Prince George are among Princess Eugenie's bridesmaids and pageboys, according to the BBC, it pretty much solidifies that Princess Eugenie and Middleton are friends. I mean, why else would she invite Middleton's children to be a part of one of the biggest days of her life if they weren't friends?
Middleton and Princess Eugenie's older sister by two years, Princess Beatrice, are reported to be friendly as well, according to PopSugar. Princess Beatrice and Middleton reportedly have friends in common and have "socialized together" over the years.
And although a lot of people might be wondering about Princess Eugenie and Middleton's friendship status, just as many people are wondering what Middleton will wear to Princess Eugenie's wedding. It's likely that Middleton will wear Alexander McQueen, the same label that designed her wedding dress, according to People, and will definitely look fabulous while doing so.
Sure, Middleton might not be the closest person to Princess Eugenie at the royal wedding this weekend — that title goes to her maid of honor, Princess Beatrice, according to the Evening Standard — but rest assured, there is no bad blood between Princess Eugenie and Middleton. And at the end of the day, on Princess Eugenie's wedding day, people should be focusing on her rather than her relationships with other members of the royal family.