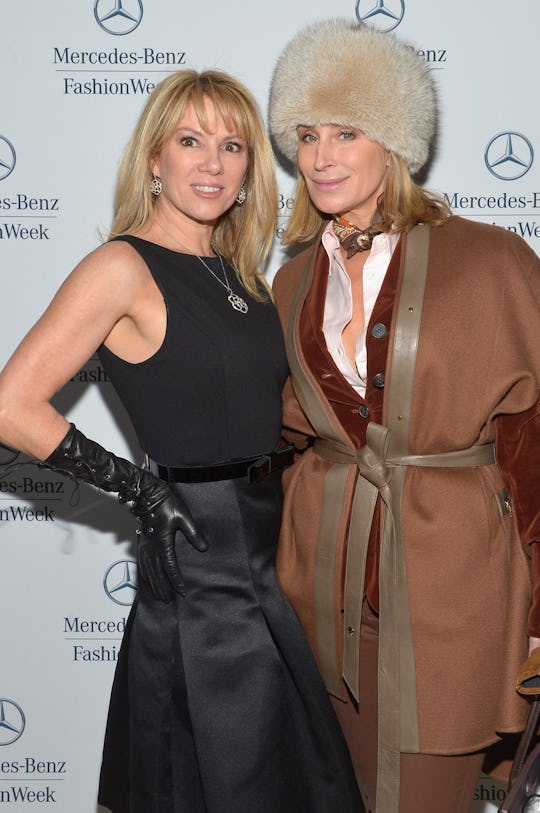 Mike Coppola/Getty Images Entertainment/Getty Images
Are Ramona Singer & Sonja Morgan Friends On 'Real Housewives'? They've Grown Apart
Ramona Singer and Sonja Morgan have been practically glued at the hip since Sonja first appeared on the Real Housewives of New York, which makes the current state of their friendship all the sadder. Despite being the best of friends for years, Ramona and Sonja have been pulling apart in the last few seasons of the show as Ramona gets used to her post-divorce life. One would think their single lady lifestyle would bring them closer together, but it seems that's not the case. Still, they've been close for so long that it's hard to imagine them cutting ties completely. So, are Ramona Singer and Sonja Morgan still friends on Real Housewives?
The upcoming episode "Birthday Bashing" will tackle the issues between the two ladies, with Ramona finally revealing to Sonja just why she's been avoiding her. However, even if they haven't been talking to each other about their problems, Sonja and Ramona have been talking to just about everyone else. In the confessional, Ramona admitted that she has been avoiding Sonja because of her fun lifestyle — apparently Sonja is too much of a party girl for Ramona. Sonja may have referred to Ramona as her sister in the past, but these days it's not looking so good for the former besties.
Ramona told People that she and Sonja have simply grown apart, adding, "If someone doesn't want to help themselves, how can you really be there for them?" It seems like Sonja's drinking — which has been a recurring thing on the show for a while now — is really too much for Ramona to take, despite her own love affair with Pinot Grigio.
Sonja is still smarting over old issues brought back up by Ramona's divorce. She felt Ramona was insensitive when Sonja was divorcing her husband, but now that Ramona's in the same boat she's still far from compassionate. On an episode of Watch What Happens Live following the seventh season, Sonja said, "I had a thorn in the side about how she also treated me when I was going through my divorce... Saying that she had the perfect marriage, everything's perfect, if I had done everything right I wouldn't be divorced and now she's walking in my shoes and I know she gave an apology to Luann, but she never said anything to me." It seems their issues have been brewing for a while.
Still, all might not be lost. The two were seen at the Season 8 premiere party looking as close as ever, all hugs and smiles. Their friendship has stood the test of time so far, and they have likely faced a few ups and downs before now. They might be dealing with a rough spot now, but odds are Sonja and Ramona will be able to smooth things over eventually.