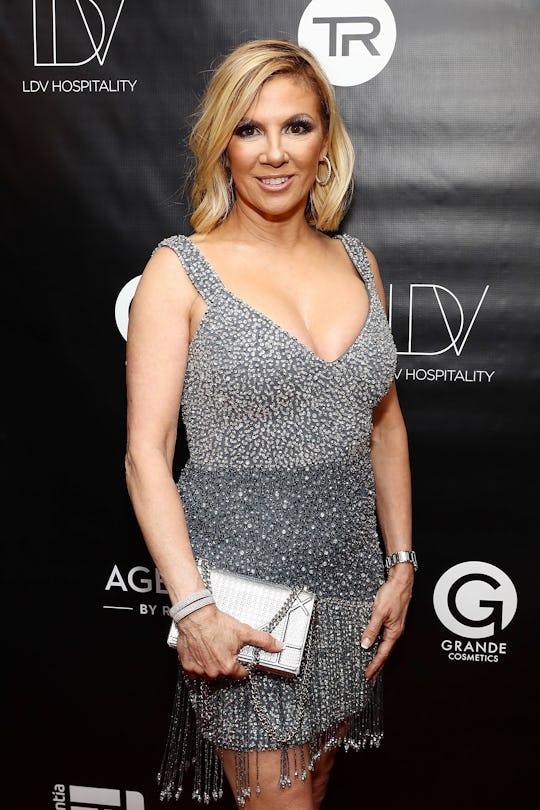 Astrid Stawiarz/Getty Images Entertainment/Getty Images
Ramona Singer Is Still Friendly With Luann De Lesseps' Ex-Husband
Drama was brewing between Ramona Singer and Luann de Lesseps on The Real Housewives of New York after it was revealed that Ramona had angled for a party invitation from Luann's ex-husband Tom D'Agostino. Ramona had been friends with Tom before his brief marriage to Luann, so it seems she felt justified in trying to attend his events; they'd even dated in the past. But are Ramona Singer and Tom D'Agostino dating on RHONY now? Is that why she was so intent on going to that New Year's Eve get-together in Palm Beach?
It doesn't look like Ramona and Tom are dating now, unless they're keeping it very secret from the public. They do seem to be friends, despite the fact that Tom didn't extend a party invite to Ramona even after she asked for one. In a sneak peek from Season 10 Episode 13, Luann and Bethenny sit poolside to discuss the situation, and Bethenny reveals something very interesting. According to her, Ramona and Tom had gone out for drinks together at the infamous Regency, so he's clearly still part of her life. Ramona and Tom might not be an item, but they're certainly friendly. And they do have something of a past together, though the extent of their relationship has been debated.
In 2015, the Daily Mail reported that Ramona had begun dating a "business mogul" named Tom D'Agostino after her divorce from husband Mario Singer. According to the article, they had been together for a few months, though both Ramona and Tom have stressed how casual the relationship was. Still, Ramona has accused Luann of dating Tom "behind her back" during the time when they were seeing each other.
However, Tom had previously told People in 2016 that he had never gone out with Ramona or with co-star Sonja Morgan, who also claimed to have been involved with him on and off for years. "In terms of Ramona, we never dated. We went out a couple of times — maybe two or three times to dinner with some friends," Tom said. "There was never any chemistry. No interest at all."
Ramona said much the same thing to Entertainment Tonight around the same time, explaining, "Yes, I did date him, but we just didn't have any chemistry. I do think he's a nice guy." She added that the dating pool in New York was surprisingly small, and it was funny that she and Luann had "overlapped."
Ramona has gone on the record to say that Tom just isn't her type, considering everything that happened between him and Luann. She emphasized to Page Six that she found Tom very charming, but she wouldn't be interested in someone who had dated several of her friends. According to Ramona:
I could never be with someone whose fiancé was sexually active with some of my best friends, I just couldn't go there. Would I be happy in that situation? Absolutely not. But you know what, different strokes for different folks.
Ramona mentioned to E! News that she had run into Tom in Palm Beach over New Year's 2017, the site of the highly scandalous party invitation debacle. But despite the fact that geography and their social circles seem to have kept them in each other's orbit, it doesn't look as though anything serious is going on between Ramona and Tom. They might hang out or get drinks, but so far there isn't any evidence that they're giving their short romance a second shot. If they did, it would definitely result in the most salacious season of The Real Housewives of New York yet.