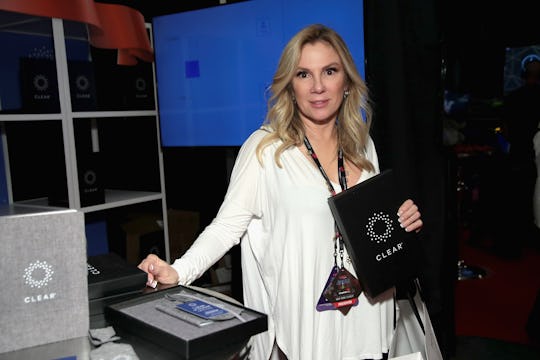 Cindy Ord/Getty Images Entertainment/Getty Images
Ramona & Tom Have Seen Each Other Since His Divorce
Tom D'Agostino was already fairly enmeshed with the ladies of The Real Housewives of New York when he met Luann de Lesseps. He was friends with Dorinda Medley, who introduced him to Luann, and he was romantically linked to both Ramona Singer and Sonja Morgan. But now that Luann and Tom have divorced, is he still on good terms with everyone else? For example, are Ramona and Tom friends now?
It doesn't look like Ramona and Tom are brunch besties or anything, but there doesn't appear to be any bad blood between them either — at least on Ramona's side. That might create some friction between her and Luann, however, if the promo for Season 10 Episode 12 is anything to go by. In a clip from the episode made available on Bravo's website, it's revealed that Ramona tried to swing an invite to Tom's New Year's Eve party. Unsurprisingly, this information does not go over well with everyone else.
Ramona has offered words of support to Luann, but it doesn't seem like she holds anything, including the events that led to the divorce, against Tom. Ramona and Tom were acquaintances before he married Luann and it looks like that's still the case now based on the few things Ramona has said about him publicly.
Ramona did mention seeing Tom in Palm Beach over the holidays, back before Season 10 began airing. She reportedly told E! News that she was in the area "over Christmas after the incident happened with Luann," referring to Luann's arrest. Ramona went on to say, "I was there for New Year's. I ran into him a number of times 'cause Palm Beach is very small."
She didn't detail the nature of their run-ins, but mentioned that Tom seemed fine and explained that she had always accepted him for who he was: a very friendly guy who liked to date a lot of women at once. Similarly, she told Page Six in 2016 that "Tom overall is a very gregarious person and he's fun to be with, he has a lot of charm." She made it clear that she wouldn't be interested in getting romantically involved with someone like him herself, but didn't comment on a friendship one way or another.
Ramona and Tom had previously seen each other casually, though Tom insisted to People that they "never dated." Instead, he said they "went out a couple of times — maybe two or three times to dinner with some friends." Ramona had also told Entertainment Tonight that she and Tom didn't have any chemistry, so it doesn't look like their brief foray was serious at all. That nonchalance seems to characterize their relationship even now.
Ramona mentioned Tom's current relationship status in an interview with Us Weekly in October 2017, and she didn't appear to be taking sides between him and Luann. According to Ramona:
You know what? They're both great people and if that makes him happy, let him do what he wants to do. He's now a single man. Life goes on, right?
Ramona hasn't explicitly commented on the nature of her friendship with Tom, or what that might mean for her friendship with Luann. Perhaps the upcoming twelfth episode of RHONY 's tenth season could shed some more light on how she feels, but everything indicates that she just doesn't have strong feelings about the situation. She and Tom always ran in the same circles and have continued to do so, which doesn't appear to be much of a problem for Ramona. Ramona and Tom might not be friends, but they certainly seem to be friendly.