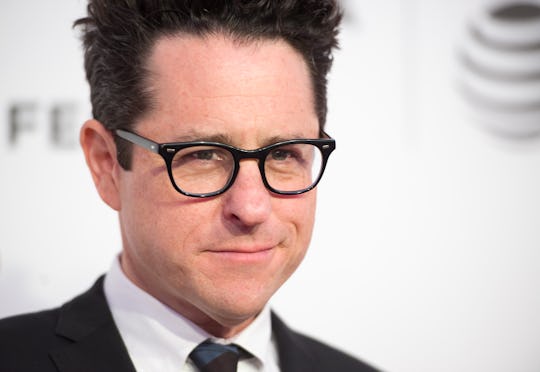 Mike Pont/Getty Images Entertainment/Getty Images
Are Rey's Parents In 'Star Wars Episode VII?' J.J. Abrams Says It's Complicated
Like other hardcore fan groups, from Harry Potterheads to the Bey Hive, Star Wars fans are pretty sensitive about any news of upcoming content. Which is why J.J. Abrams should have probably spoken a little more carefully at the Tribeca Film Festival on Friday night when he said that Rey's parents aren't in Star Wars: Episode VII. At the panel discussion, in which comedian Chris Rock interviewed Abrams about his work, a young fan asked the director who Rey's parents are and the crowd went wild. It's pertinent information.
According to Entertainment Weekly, Abram's responded by saying, "Rey's parents are not in Episode VII. So I can't possibly say in this moment who they are." He added that the fans weren't alone and that his parentage is "something that Rey thinks about, too." Later though, Abrams changed his tune by making a statement saying that it's not that Rey's parents aren't in The Force Awakens and that the next installment will build on this tension. "What I meant was that she doesn't discover them in Episode VII. Not that they may not already be in her world," he told EW.
So that means that some fans' theories about her family could be correct. Or not at all. It's all very confusing.
Ever since they walked out of movie theaters in December, fans have been speculating about Rey's parents. Popular theories include Luke, Leia, or Han as parents and Obi as a grandfather. But then again, maybe it's neither of them. Abrams seemed pretty confident about his original answer and then seemed to walk it back later. It's worth keeping an open mind about his statements.
The most irritating thing for fans is that Abrams knows where this story is going but he's not giving away any hints. At the Television Critics Association's Winter Press Tour, he said that "he knows a lot" about Rey's ancestry. But there was some director's code he was abiding by. According to The Hollywood Reporter, he said, "Obviously it's not for me to talk about in this moment because this is [Episode VIII director] Rian [Johnson]'s story to continue now." He added, "The last thing I'm going to do is reveal something that he would be upset about. I want to make sure that Rian gets the courtesy that he showed me."
That's probably why he was so eager to clarify his comments last night once the news hit social media that he was giving away plot points — he realized he spoke maybe too freely. The franchise has to keep fans interested until December 2017 for Episode VII expected release date. That won't be too hard, but it's no fair if Abrams starts hinting at spoilers.