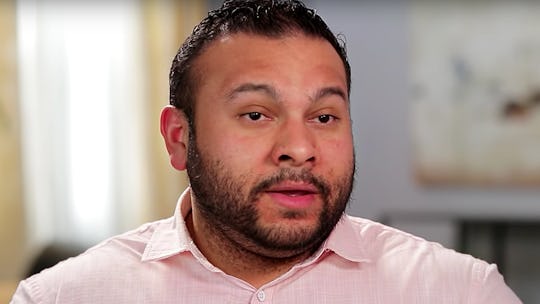 TLC
Fans Are Doubtful Ricky & Melissa Are Still Together After '90 Day Fiance'
Finding love online is hard, especially when you're talking to someone in a different country. Just look at Ricky from 90 Day Fiancé: Before the 90 Days. He traveled all the way to Colombia to meet his online girlfriend, but are Ricky and Melissa still together after 90 Day Fiancé: Before the 90 Days? Some fans weren't so sure about their relationship.
While TLC's editing made it look like Ricky wasn't being catfished, it turns out, Melissa is not a catfish. Despite rumors on gossip sites and among fans, she turned out to be a real deal. On the show, cameras showed Ricky waiting for ages for her to show up, which she eventually did. "He's the first American I've known," Melissa said on 90 Day Fiancé. "There's a lot that I like about him. I feel satisfied." When asked about where the two were going romantically, though, Melissa gave pretty nebulous answer. "It's very complicated, so let's see what happens."
Even though Melissa is real and not a catfish, there's no real indication on social media that the two are still together. Ricky's Instagram account is filled with photographs that he shot and selfies — nothing revealing about the show or Melissa.
In the promo for Ricky's story, his friends were more suspicious than he is about Melissa's validity. After communicating for only three months, Ricky decided to travel all the way to Colombia to meet her — but his friends warned that she could have been faking this whole thing. Ricky also seemed to ignore what his friends pointed out was a huge red flag — that he had been sending her money every week.
Turns out, Ricky's instincts were correct in believing that Melissa wasn't playing him. That doesn't mean the two will end up together, though. Melissa doesn't seem to have an Instagram account of her own or other social media accounts, so it's not possible to know what she's up to online.
Some eagle-eyed fans spotted evidence that Ricky and Melissa weren't even officially dating at all before the show. Redditor MetallicPeacock27 translated Ricky's text to Melissa that he sent her in the restaurant: "[S]eriously as friends, I want to invite you to a luxury restaurant in Medellin, one of the best. Please think about it. I promise you it's like just friends. Thank you I promise that I am a respectful man." Another apparently read, "I'm here thinking that in less than two weeks, I'm in Medellin and I'll see you… I want to see how pretty you are."
As far as what happened between these two after they finally got to meet in person, there isn't much evidence at all. Melissa at least didn't appear to immediately fall head over heels in love with Ricky, but it's always possible that that could change. Viewers will have to keep watching this season to see how it further unfolds. I don't know it turns out that these two are soulmates or if their relationship is doomed to fail. I guess we'll just have to see.