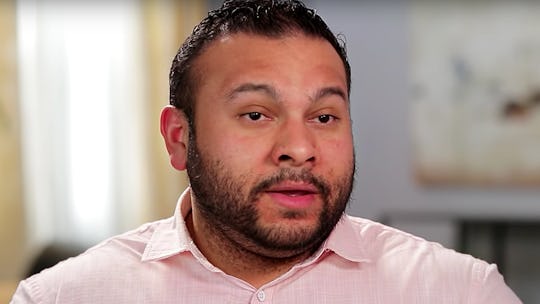 TLC
So, What's Up With Ricky & Ximena On '90 Day Fiancé: Before The 90 Days''?
Fans of Before the 90 Days may have gotten whiplash from Ricky's storyline in the last episode, but I'll (try to) explain everything. Now that Ximena is in the picture, are Ricky and Ximena still together after 90 Day Fiancé: Before the 90 Days? Their love is currently up in the air.
Of course, there's no information online about the two — and social media provides exactly zero hints. Ximena doesn't appear to have public accounts, and Ricky's Instagram is all his professional photo work, no personal stuff.
But viewers who missed the last episode are probably confused at this point. Ximena? What about Melissa? Well, as fans are well-aware, Melissa — whom Ricky came to Colombia to meet and possibly fall in love/marry/take back to the United States — wasn't interested in pursuing what Ricky was. She did indeed meet Ricky at the restaurant after he waited there for hours (so much so that he and fans were convinced she was a catfish), but afterwards she basically ghosted him. Melissa didn't answer Ricky's texts after awhile, so she made her intentions, or lack thereof, clear.
This is where Ximena comes in. Ricky apparently started talking to her on the same Colombian dating app where he met Melissa, but Melissa was first. He didn't want to communicate with both at the same time, so he'd really only talk to Ximena when Melissa was distant (aka, Ximena was his "back burner"). After days of spending Colombia alone, however, Ricky hit up Ximena once again to finally meet her in person — and she accepted.
Unlike with Melissa, there was no tension or drama over whether she was a catfish. She met Ricky right away at his place, complete with roses and chocolates. Also unlike Melissa, Ricky made his romantic intentions clear with her from the start. The two seemed to hit it off quickly, but Ricky couldn't get carried away because he has his secret: he didn't come to Colombia for her.
Judging from the promo that aired at the end of last Sunday's episode, Ximena will soon find out Ricky's reason for coming to Colombia in the first place. "I have to be brutally honest about Melissa," Ricky says. During a clip, Ricky tries to explain the situation in broken Spanish to Ximena. She's seen looking concerned but beyond that, the audience doesn't know her true reaction yet.
Whether Ximena and Ricky are still together is dependent on a few things. For one, she might kick Ricky to the curb knowing that he didn't come to Colombia for her. Then again, that may depend on what Ricky (or Before the 90 Days producers) told her in the first place. If either of these people lied and said he came to Colombia to meet her, she may break it off when Ricky reveals the lie. And I wouldn't blame her! Lying is one of, if not the biggest, no-no in relationships in my opinion, and if Ricky lies from the get-go it will not work out.
If Ricky didn't lie, though, Ximena may still give him a chance... but I wouldn't expect wedding invitations just yet. After all, the rest of the Before the 90 Days couples are dealing with their own drama — and the Americans traveled abroad for the person they're with! So even if Ximena and Ricky stay together beyond this confrontation, that doesn't mean they don't break up later for something completely unrelated. Fans will have to keep watching this season to see how it all unfolds, but Ricky has without a doubt had the most unpredictable story of the season.