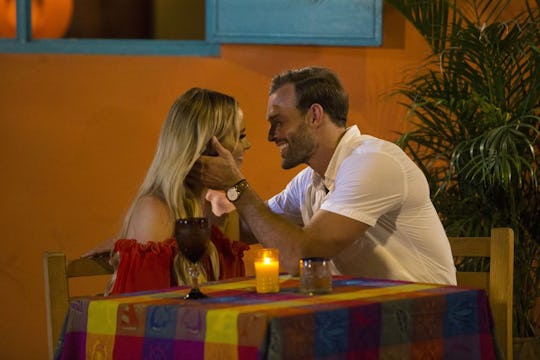 Paul Hebert/ABC
Robby & Amanda's Romance May Continue Outside Of 'Paradise'
Not every Bachelor in Paradise couple has a ton of eyes on them post-filming. There aren't any reports swirling, for example, about the longevity of Daniel and Lacey's relationship. But one couple is generating a lot of attention whenever they're spotted out together. The couple in question is Robby and Amanda, whose flirtation courted controversy right away due to his friendship with her BiP ex-finacé Josh Murray. So are Robby and Amanda still together after Bachelor in Paradise? Let's just say that they definitely want people to think that they are at this point in time.
First of all, Robby made clear on The Morning Breath podcast this week that his friendship with Josh has hit the skids, implying that his relationship with Amanda was at least successful enough to really upset her ex. "[Josh and I] text here and there," said Robby, according to Us Weekly. "It's definitely lost its spark." He also added that he and Amanda were taking things very slowly to figure out how to make their relationship work outside of Paradise. Although, as we see on the show, while Robby sees their relationship as "taking things slowly," Amanda's pretty straightforward about not really feeling it, though she doesn't exactly mind all of the attention he gives her.
Last month, Robby and Amanda were spotted out to dinner together at The Ivory in West Hollywood and they also attended a Los Angeles Dodgers game with Tickle Monster and Ashley I. Earlier, they'd both attended Raven's birthday party at Malibu Wines. Although this could easily be a platonic connection Robby is desperately trying to spin into a relationship, sources did say that Robby and Amanda were holding hands when they went out to dinner.
But they still have some skeptics among their very own cast members. Vinny Ventiera told People when asked about Robby and Amanda's relationship: "In that situation, anybody would do anything for some Instagram followers."
Viewers have definitely seen women in Paradise get worn down by persistent romantic attention from dudes they didn't like that much before. (Ahem, Carly and Evan.) But at least in their case, Evan knew that what he was doing wasn't working. Robby seems to think that he has a real shot while Amanda's attention has been tepid, at best, and polite, at worst. Their friendship might be real, but everything about their relationship seems super forced, whether Robby is willfully misreading Amanda's signals or she's leading him on.