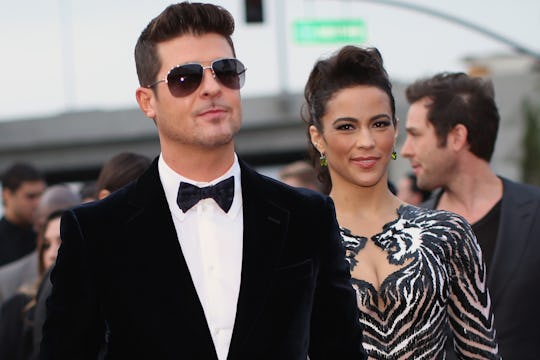 Christopher Polk/Getty Images for NARAS
Are Robin Thicke & Paula Patton Still Broken Up? Actually, They're Divorced
With a performance slated for Feb. 15's Grammy award show, everyone is wondering: What will Robin Thicke do this year? Will Miley join him on stage? Will he perform all-new music or will he perform a single off his album, Paula? Speaking of Paula, are Robin Thicke and Paula Patton still broken up? Though it seems that Thicke's name will forever be synonymous with that MTV VMA award show with Miley Cyrus, it's hard to separate the singer's performance on-stage with the aftermath that took place following the show. After making making the decision to separate in February 2014, Paula Patton filed to divorce Thicke in October of the same year.
Though the couple never explained the reason for their split (because they don't owe the public an explantation for something so deeply personal and private, and also because their relationship concerns them, not us), Thicke gave an interview in July on Hot 97 — in the midst of their separation — where he said:
I'm a man. I messed up, and I had to lie for awhile. And then I stopped lying. And that was actually good for me, because I was tired of lying. So this whole album is me revealing everything.
Though rumors swirled on what Thicke's admission might have meant, nothing was ever confirmed and neither Patton or Thicke ever spoke publicly about the reasons leading up to their separation and ultimately, their divorce.
Their divorce was granted in March 2015 and the parents to 4-year-old son Julien Fuego released a joint statement: "We will always love each other and be best friends; however, we have mutually decided to separate at this time."
In a segment that aired on Good Morning America, Patton told host Robin Roberts that she was "doing really well" following the divorce. She added: "I mean, the honest truth is it has been challenging, but it's been a year of growth, lots of healing, learning about all new things, but I've come out of it stronger. My son's happy. And I'm very — you know, I feel like everything happens for a reason. And then you have to move on and grow from there."
Honestly, good for the two of them. Obviously there was something taking place within their relationship that made both Thicke and Patton unhappy and they decided to do the best possible thing to better their own lives and their son's. I'm sure it wasn't exactly easy to end a years-long relationship (the couple had been together since they were about 14), but they did what was personally best for them, and that's what's most important. It's not anyone's place to speculate on what caused their marriage to end, but they made the decision to part, and that's something that should be commended. At the very least, they deserve to be happy — and whether that's together or apart, that's up to them.
Since their divorce, Thicke has been dating April Love Geary, a 20-year-old model. And OK! Magazine linked Patton to Zak Waters, though they never confirmed their relationship. Regardless of who they're dating, let's just hope they're happy.