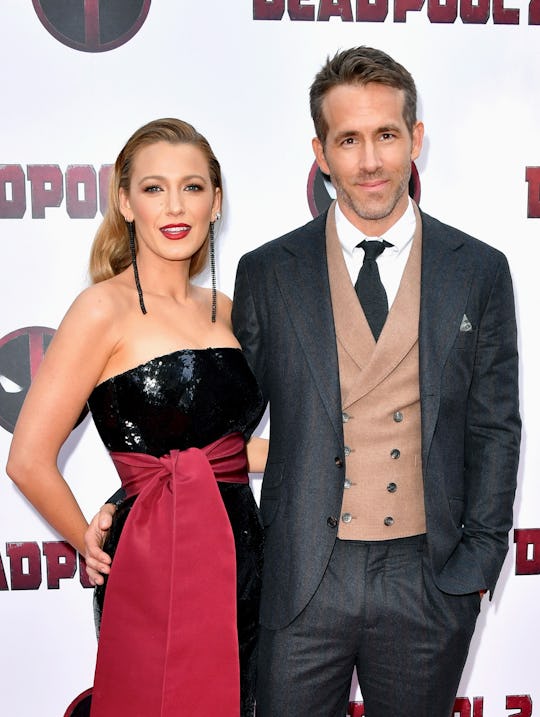 Michael Loccisano/Getty Images Entertainment/Getty Images
Ryan Reynolds' Recent Comments Got Fans All Excited About A Potential Baby No. 3
Ryan Reynolds and Blake Lively are one of those celebrity couples that you just can't help but love. I mean, they're both stunningly gorgeous, for one. Plus, fans can't get enough of their playful — and often hilariously brutal — online trolling of each another. Let's just say the hashtag #relationshipgoals is often associated with this actor duo. And this hasn't changed in the slightest since they became parents. In fact, I would venture to say that fans love them even more since they had their two daughters. So are Ryan Reynolds and Blake Lively trying for baby number three? His recent comments got some fans' hopes up.
As Us Weekly reported, the Deadpool actor recently made an appearance on the Ellen DeGeneres Show to promote the upcoming release of a PG-13 version of Deadpool 2 called Once Upon A Deadpool. During the interview, the talkshow host brought up Reynolds' recent trip to Abu Dhabi and his jet-lagged 3-year-old daughter, James — whom he had actually brought with him to the studio. DeGeneres mentioned that he had another daughter with his wife, Blake Lively, asking Reynolds how old she is now.
"That happened from sex ... Just FYI," he said nonchalantly of his youngest daughter, Inez. "She's 2."
"So you've only had sex twice?" DeGeneres said, with a laugh.
"Just the two times, yeah," Reynolds said. "Yeah, it's a mercenary job. It's just clinical."
"Hoping for a third soon," he added with a big grin. However, when audience members started cheering, Reynolds quickly shut that idea down with a firm, "No." LOL. I have a feeling Blake Lively is going to give Reynolds a hard time about that one.
Frequency of sex — and whether or not it's the baby-making type — aside, Reynolds also opened up with DeGeneres about fatherhood and how it's changed him, according to PopSugar. "It's kind of made me a better person, I think," he explained. "I sort of miss being horrible." He went on to say:
It's hard. It's always a challenge, two kids. I think of blinking now like tiny little breaks all day.
(Is it just me, or does the idea of a Ryan Reynolds parenting podcast sound amazing? I swear I could listen to his dad jokes all day.)
As much as Reynolds kids around about the exhaustion of parenthood, at the same time you can just tell how much he loves his little girls. "But it's a dream," he went on to tell DeGeneres, according to People. "They're the best. They're my buddies. I love it." Awwww.
Sorry, Ryan Reynolds and Blake Lively fans; it doesn't look like baby number three is in the cards. At least not yet, that is. I know, I know; I'm a little bummed too, for some reason. But never fear! As Page Six reported back in April, it seems they have plans to add to their family but might have to wait "another year" once their work schedules settle down a bit. So who knows? Perhaps Reynolds and Lively will be talking about an upcoming third child for real sometime in 2019!
This first-time mom wants to have a home birth, but is she ready? Watch how a doula supports a military mom who's determined to have a home birth in Episode One of Romper's Doula Diaries, Season Two, below. Visit Bustle Digital Group's YouTube page for the next three episodes, launching every Monday starting November 26.