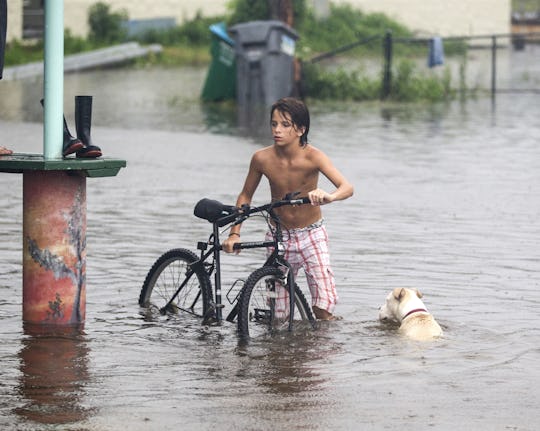 Mark Wallheiser/Getty Images News/Getty Images
Are Schools In Florida Closed For Hurricane Hermine? Officials Aren't Taking Any Chances
As Florida braced itself Friday for Hurricane Hermine — the first hurricane to actually hit the state in 11 years — officials encouraged all residents to take extra precautions. Are schools in Florida closed for Hurricane Hermine? Many of them are, which is unsurprising, given that Florida Gov. Rick Scott officially declared a state of emergency for 51 of the state's 67 counties, according to CNN. Although Hermine was downgraded to a tropical storm a few hours after it hit land in Florida, it is still expected to do some major damage, not just to Florida, but also to parts of Georgia and North Carolina as it moves up the Gulf Saturday.
With the risk of tornadoes and flooding high, particularly in northern Florida, a long list of counties have announced school closures, and in other parts of the state, many schools have cancelled school-related activities, or are leaving the schools open and excusing any absences, according to WFTV 9. And, according to Tallahassee news station WTXL 27, some communities on the northern Gulf Coast have been told to evacuate completely, including parts of Taylor County, Franklin County, and Wakulla County — especially any residents living in low-lying areas, or those in mobile homes or RVs.
Currently, the following schools and districts near the Gulf Coast are listed as closed Friday, according to WTXL 27:
Wakulla County School District
Leon County School District
Franklin County Schools
Taylor County Schools
COAST Charter School
Betton Hills Preparatory School
Decatur County Schools
Aucilla Christian Academy
Annsworth Academy
Woodland Hall
Keiser University's Tallahassee campus
Thomas University
Florida State University main campus
Valdosta City Schools
Cook County Schools
Tift County Schools
Lowndes County Schools
Hamilton County Schools
John Paul II Catholic High School in Tallahassee
Thomasville City schools
Grady County Schools
Suwanee County Schools
The Mitchell County School System/Baconton Community Charter School
In the northeast, the following schools have announced closures, according to The Florida Times-Union:
Duval County schools
St. Johns County public schools
Nassau County public schools
Putnam County public schools
Clay County public schools
Bradford County public schools
Baker County public schools
Union County public schools
Columbia County public schools
All Catholic Diocese of St. Augustine school
Episcopal School of Jacksonville
The Bolles School
Jacksonville Country Day School
St. Johns Country Day School
Beaches Episcopal School
Trinity Christian Academy
In Central Florida, the following schools are also closed Friday, according to News 6 Orlando:
Marion County Public Schools
Flagler County Schools
Volusia County Schools
Trinity Christian Academy in Deltona
And according to WUSF News, a number of school districts further south are also closed, including those in Pinellas, Hillsborough, Manatee, Pasco, Citrus, and Hernando counties.
In other words, depending on which part of Florida you live in, the main priority for many residents Friday and through the weekend will be staying safe amidst flood warnings, wind warnings, tornado warnings, and storm surge damage. In a press briefing Friday, Scott told reporters that Hermine left 253,000 Florida residents without power at some point, and that extra precaution should be taken around fallen or uprooted trees, and downed power lines, according to WEAR TV. Scott also warned residents to be careful around floodwater, and to avoid driving in it, or even traveling at all unless absolutely necessary.
Anyone in areas affected by Hermine looking for more information can visit floridadisaster.org/info, call 850-921-0217, or, in an emergency, call 911.