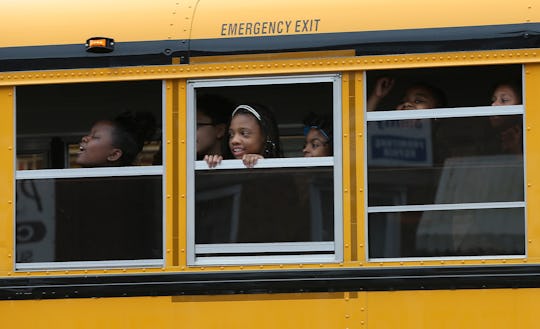 Win McNamee/Getty Images News/Getty Images
How Schools Are Preventing Norovirus Outbreaks
Schools are breeding grounds for all sorts of things — lice, colds, and especially right now, norovirus. Although schools have different protocol when it comes to stopping the spread of a virus, schools aren't necessarily required to tell parents if another child has the norovirus (or, as it's more commonly known, the winter vomiting flu — pleasant, right?). Instead, according to the Department of Education, when it comes to norovirus, schools are required to contact the local health department about the outbreak so that they can keep track of how well they're containing it.
Schools are also required to let a child stay home from school for 48 hours, since the virus is super contagious. It may seem weird that they don't have to alert you, but remember that health information is super sensitive and they have to protect the poor puking kid from harassment. Of course, once an outbreak strikes, everyone will know who's home from school and who's not by the end of recess.
What is more likely to happen is that schools may send information home that "some" children are sick, just as they would do with chicken pox or lice. That way, parents have a heads up and can reinforce good hand washing behavior at home before sending their kids to the school bus and keep an eye out for symptoms. Because believe me, you're going to want to know what to expect when it comes to norovirus, the symptoms of which are mainly diarrhea and vomiting. Again, lovely, right?
Norovirus is very contagious, so schools are smart to make sure sick kids stay home. But when it hits, they're also responsible for all the fallout. Last month, for example, a California school had to be shut for for cleaning after a group of students got sick.
According to The Los Angeles Times, lockers and bathrooms were cleaned per Centers for Disease Control protocol. The Santa Monica school's principal Steve Richardson wrote to parents, "This method, called terminal cleaning, is in an attempt to decrease the amount of the virus. Based on consultation and guidance from the Los Angeles County Department of Public Health, we expect that these actions will significantly limit potential exposure from the school facilities."
That school was also recommending that children with symptoms stay home for 72 hours so that they didn't keep spreading the disease. If your kid is home sick, you don't have to do a "terminal cleaning" yourself, but you can use chlorine bleach on the counters and in the bathrooms, as it's a good way to ensure that your house can contain its own outbreak of the virus.
Really, no one has time to spend three days puking. So even if schools aren't necessarily required to tell parents about a kid who's sick, they all appear to be doing their very best to prevent all-out flu chaos.