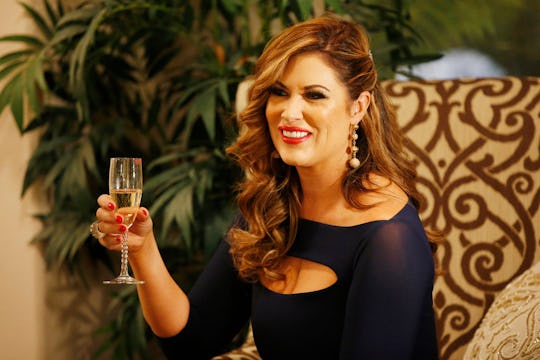 Phillip Faraone/Bravo
Shannon & Emily Might Not Be Getting Along After 'RHOC'
There's always friction on The Real Housewives of Orange County when a new woman joins the cast. As friendly as she may be, she's still a relative stranger entering a situation where most of the ladies are so tight-knit that they make up, fight, and make up again all during the same dinner party. Season 13 saw the arrival of Emily Simpson, who seemed to get along fine with Shannon Beador. But are Shannon Beador and Emily Simpson friends are RHOC?
Emily and Shannon may not have had any blow-up fights over the course of the season, but they were never especially close either. Shannon sticks with her besties Tamra Judge and Vicki Gunvalson for the most part; she never seemed to entirely warm to Emily and other newcomer Gina Kirschenheiter. Now that the season has finished filming, it looks like the distance between Shannon and Emily has only grown.
Emily told TooFab that Shannon had blocked her on social media, though she wasn't quite sure why. She couldn't pick out a specific incident that had earned Shannon's ire, speculating, "Maybe she hears things I've supposedly said? Maybe she sees Gina in a confessional call her an a**hole, so she just gets mad again? I don't know."
The awkward interactions extended past social media, too. While speaking to TooFab, Emily shared an anecdote about running into Shannon out at famed Housewives eatery The Quiet Woman. Emily and Gina were there together when they spotted Shannon. It didn't go well, as Emily explained:
[Shannon] saw us and flipped out and ran away. We were standing there, and she walked in the door, and I saw her. So I smiled and waved because that's what I do when I see someone I know. You should've seen her face! It was like she saw — I don't know — something that scared the cr*p out of her. She turned, she ran, she didn't wanna be anywhere near us. Her friends had to come over and apologize and say, 'Sorry she acted like that.' I don't understand it. It's very immature behavior, but that's on her.
Emily elaborated on their friendship in a blog for BravoTV.com, writing that she has "never received much effort from Shannon." She felt that Shannon never tried to engage with her, or ask about her life. When talking to AOL, Shannon admitted that she had trouble getting along with new people on the show because she didn't like change, but it seems like there might be more to her issue with Emily.
Shannon discussed her qualms with Emily with AOL. She mentioned that Emily would be raising "unconscionable and unethical" allegations about her in future episodes. She said that she believed Emily was out of line. "I didn't threaten to kill someone at a party," Shannon said, referencing Emily's argument with Kelly Dodd. "If you're going to start questioning my mental capacity, then I'll throw it right back at ya, gal."
Tension has been slowly building between Emily and Shannon in Season 13, and it might take a turn for the worse before the season ends.