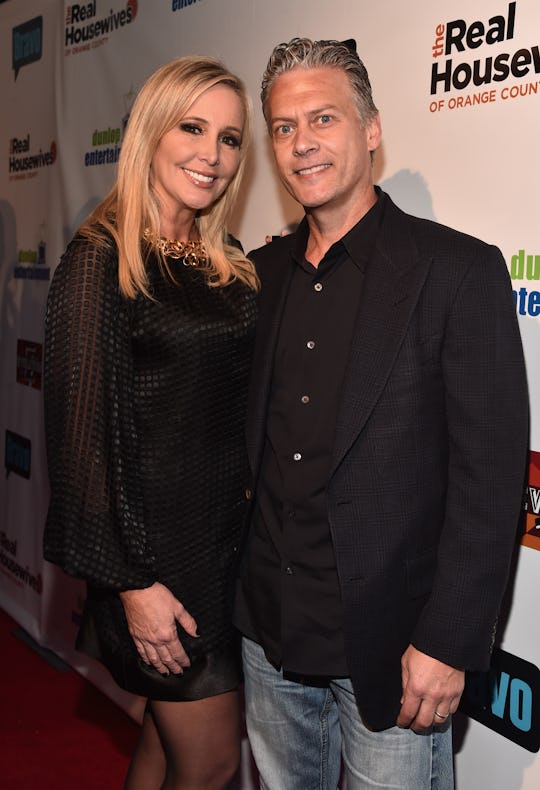 Alberto E. Rodriguez/Getty Images Entertainment/Getty Images
Are Shannon & David Beador Still Together On 'Real Housewives'? They're Starting Over
Marriage troubles have been a part of Shannon Beador's story on The Real Housewives of Orange County since early on in her time on the show. She's made no secret of the fact that she and her husband David have been working through the aftermath of his affair, and that journey hasn't always been pleasant. They've had to work to communicate with one another, and Shannon has struggled to forgive and find a way to move on from the betrayal. Though things have seemed settled for the Beadors in the last season or so, the trailer for Season 11 makes it seem like there could be trouble in paradise once again. Are Shannon and David still together?
In the trailer, David is first spotted springing a romantic moment on Shannon that looks like it's a vow renewal, and Shannon is brought to tears. However, later on the two are shown fighting. Shannon shouts at David that she didn't push him into having an affair before storming off angrily. It's the epitome of mixed messages, but that's the point of promos: to get fans talking. According to Shannon, though, things are better than ever, despite the ups and downs that come with the territory.
In a statement to People during the RHOC premiere party, Shannon claimed that the show was actually helpful for her relationship. "I have to say that this season is one of new beginnings for my marriage," she said, going on to say that the season has been "so amazing." Based on what Shannon has to say, that little tiff in the trailer might be a small moment blown out of proportion by editing, or else something that gets resolved relatively quickly.
I'm not into that sort of thing, but for me it's actually helped my marriage, my family, and me being able to watch back little parts of my life, and realizing where I need to make changes and where I need to improve because you have someone very often capturing what's going on in your life and they pretty much edit me accurately. You're never going to hear me – well at least so far – say, 'Hey! It's all editing!' No, that's me – for good or for bad.
Shannon is forthcoming about how tough it can be sometimes for a couple to overcome an affair. She has admitted before that at times it looked like her marriage to David might be over, either because of the affair itself or because she could not forgive him for it. Now things seem to be looking up even though there might be an occasional setback or two. Shannon's Instagram speaks to the happy place her personal life is at right now: it's all family photos and couples vacations with David.
After seeing Shannon fight so hard to get her marriage back on track, it should be nice for her to have a season where she gets to be happy on the show. Let's just hope that argument in the trailer isn't as foreboding as it looks.