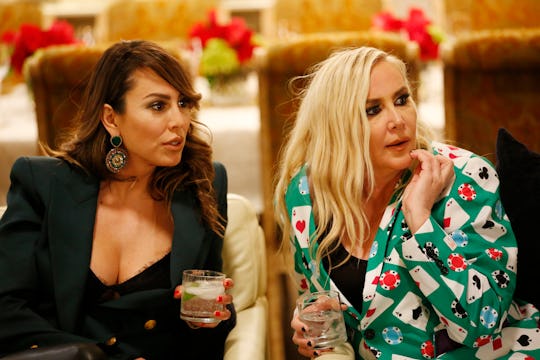 Phillip Faraone/Bravo
Shannon & Kelly Continue To Bond Over The Single Life After 'RHOC'
On The Real Housewives of Orange County friendships are forever changing in unexpected ways. For instance, during the most recent episode previous enemies Kelly Dodd and Shannon Beador appeared to begin a newfound friendship after connecting over their divorces. So are Shannon and Kelly now friends after RHOC or was their friendship short lived?
Based on their social media, it looks like the single moms' new found friendship is still going strong, but first, let's revisit how it all began. Since the start of this season, Kelly and her now ex-best friend Vicki Gunvalson have been in a bit of a feud. It all began after Kelly found out her ex, Michael Dodd, was dating someone he met at Vicki's barbecue. Vicki didn't feel remorseful about it and even admitted to going on double dates with her boyfriend, Steve Lodge, Michael, and his new lady.
Though Vicki eventually apologized, the issue came up again at Emily's poker party. Emily's mother-in-law, Pary, was chatting with Kelly about her divorce with Michael, and Kelly got emotional saying she was "stupid" for divorcing him. Pary asked if Michael was with someone new, and that was when things went south.
Kelly again accused Vicki of setting Michael up, leading to another fight, and it was surprisingly Shannon who came to Kelly's defense after Vicki said Kelly was being ridiculous. "When you just said, 'This is ridiculous,' this is where my blood starts to boil," Shannon said. "I'm going through a divorce right now, and if I found out that any of you at this table set my husband up with a friend, I would be flippin' livid."
After that, it seemed Kelly and Shannon realized they actually had something in common, at least for now. The two ladies ended up bonding at a bar, talking about being lonely. Shannon asked Kelly questions about dating, such as if it was okay to kiss one guy then go on a date with someone else. Thankfully, Kelly told her that it was more than okay, and the pair appear to now be on the single life train together.
They have been spotted hanging out together frequently, and they often share their adventures on Instagram. Back in April, Kelly went on Watch What Happens Live with Andy Cohen After Show that she and Shannon have grown closer due to their divorces, which occurred around the same time.
"Well, Shannon and I are really, really close," she said. "We've really bonded. We talk about the same things, we're having the same experience at the same time, so that's why we bonded. And we live very close to each other. We're going out more often, we're doing more things together, so we're really close. Yeah, it's good."
Additionally, even before the drama during this season between Kelly and Vicki arose, Kelly also said her friendship with Vicki had changed because they were in different places in their lives. "Now Vicki, she's got a boyfriend, so she's not living the single life like Shannon and I, so we haven't been able to whoop it up," Kelly said on WWHL After Show. Though Vicki claimed they'd still be able to "whoop it up" together, that obviously has not proven to be the case.
However, in the most recent episode it did seem like Vicki and Kelly had finally buried the hatchet once and for all, especially after Tamra Judge and Shannon talked to Vicki about the whole situation. It seemed like Vicki finally understood why Kelly was truly so upset with her, so hopefully that is the end of their feud, and maybe now the Housewives can all get along. Just kidding, this is The Real Housewives of Orange County. Peace can only last for so long.