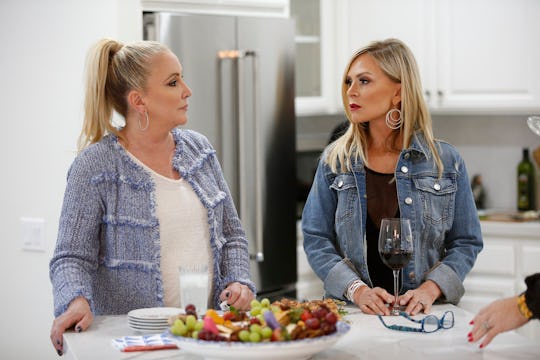 Phillip Faraone/Bravo
Shannon & Tamra's Friendship After 'RHOC' Hasn't Been Easy
Tamra Judge and Shannon Beador have not had an easy friendship. The Real Housewives of Orange County stars are one of the resident pairs of BFFs on the show and after some major hiccups in their friendship over the past couple of years, it was unclear if they would make it. So are Shannon and Tamra still friends after RHOC? Apparently, sometimes all you need is a trip to Jamaica to put things into perspective.
Tamra told Bravo TV in a video that after the cast's trip to Jamaica this season, she and Shannon were closer than ever. Shannon said as much in the same video. "Tamra and I are so close, we're like family," she said. "The true test of a good friendship is being able to resolve an issue quickly. And Tamra and I were able to do that."
For those who aren't clear about the drama of the week for the friends, the more recent issues stemmed from the troubles in their own personal lives. Shannon recently went through a divorce that resulted in a weight gain that Tamra felt frustrated she couldn't help her with. And on the flip side, Gina Kirschenheiter recently accused Shannon of not checking in on Tamra after her husband underwent heart surgery. I get that life can get busy for you and important friendships fall to the wayside from time to time, but as with anything on RHOC, things got blown up between the women and it all collided during the trip to Jamaica apparently.
Despite what some fans thought to be a falling out this season on RHOC, the women seem to be doing fine and back to BFF status. They said so themselves when they spoke to Bravo TV and Shannon recently posted a photo on Instagram of the two of them with fellow RHOC star Vicki Gunvalson.
Fans were also probably concerned when Shannon didn't show up with the rest of the cast to celebrate Tamra's birthday. But judging by the post on Shannon's Instagram about being sick at the time, I think she got a free pass for that.
Tamra recently wrote in her Bravo blog that her friendship with Shannon has been exhausting at times over the years, despite their apparent reconciliation.
"The past four years of Shannon's marriage have been a roller coaster. I've been the one there for her every step of the way," Tamra wrote. "I try to be the best friend I can be and just listen to her, but that gets exhausting. I was going through my own issues with Eddie's health and my patience was running short." Again, totally understandable.
She also said that because "Shannon is very emotional," it was hard to be honest with her about Tamra's thoughts on her marriage and subsequent divorce. But regardless of their communication issues, Tamra wrote, "We balance each other out."
In a recent episode of RHOC, Tamra told Gina and Emily Simpson that part of her loyalty to Shannon stems from feeling sorry for her. "I think I've just adapted to her personality," she explained on the show. But as with any friendship, taking the bad with the good comes with the territory.
And as the women said themselves, they seem to still be friends after RHOC. It's probably hard to completely drop a long friendship when you're contractually obligated to film a show together, but Shannon and Tamra do seem to have a genuine friendship both on and off the show. They might both have problems going on in their personal lives, but clearly they always manage to work out their issues with each other.