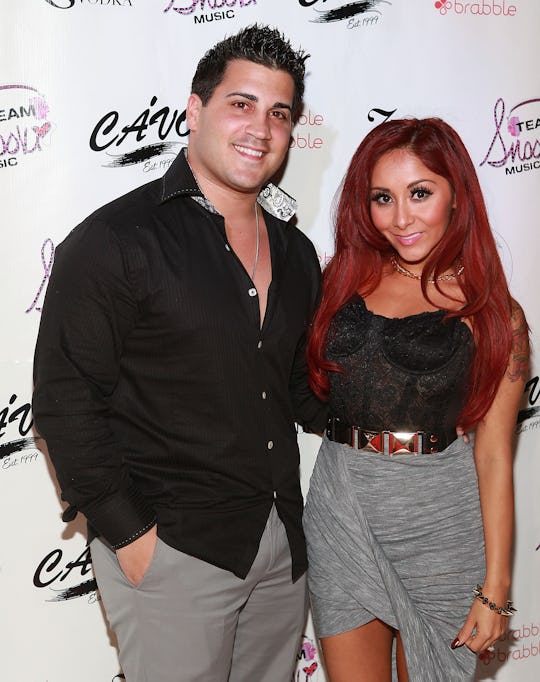 Robin Marchant/Getty Images Entertainment/Getty Images
Snooki & Jionni Have Gone Through A Lot Since The 'Jersey Shore' Series Finale
Wouldn't we all want to go back to 2012? It was such a simpler time — one reason being that Jersey Shore was still on the air. So much has changed since then with the cast (and the world). For example: Nicole "Snooki" Polizzi and Jionni LaValle got hitched, though I'm curious how things are going for them now. Are Snooki and Jionni still married? There have been rumors that our favorite meatball couple may be no more.
While 2018 is shaping up to be a wild year, at least fans have solace that they'll see their favorite Jersey Shore characters (minus Sammi) together again when MTV's Jersey Shore Family Vacation reunites a majority of the cast on Thursday, April 5. But a lot has changed for Snooki between these two Jersey Shore reality shows. She and Jionni actually announced that they were engaged and pregnant while Jersey Shore was still on the air. "I have different priorities now," Snooki told Us Weekly about her partying ways. "I don't care what anybody else thinks. As long as I know I'm ready and he's ready."
The couple initially met while partying at Karma (naturally) and Snooki's pregnancy became a major plot point of the sixth and final season of Jersey Shore. In one episode, for instance, she moved out of the famous shore house due to her pregnancy. Snooki and Jionni welcomed their first child, Lorenzo Dominic LaValle, on August 6, 2012. "Being a mom is an amazing feeling!!! I love my little man to death! Jionni is such a cute dad," she tweeted. "I am SO IN LOVE with my son Lorenzo Dominic."
In the six years since the original show, Snooki has remained in the public eye. She and her shore BFF Jenni "JWoww" Farely starred in a spinoff show aptly named Snooki and Jwoww where they continued their antics, but definitely grew up a bit in the process.
Snooki and Jwoww showed Snooki's days of pregnancy beyond what happened on Jersey Shore, and since it lasted four seasons, it ventured into the early days of Snooki's motherhood as well. In addition to having Lorenzo, Snooki gave birth to her second child, Giovanna Marie LaValle, on September 26, 2014. Snooki and Jionni married a few months later, in November of that year. Snooki and Jwoww ended in early 2015, but not before viewers were able to see the birth of Giovanna and the wedding in the last season (Snooki and Jionni's wedding was a fitting season finale).
The duo have obviously been through a lot together. From courting during her Jersey Shore days to being the center attention on Snooki and Jwoww — and even having a short-lived DIY show of their own called Nicole & Jionni's Shore Flip — they've been in the spotlight for much of their relationship. Recently, there have been rumors that Snooki and Jionni are divorcing. Jionni won't be involved in Jersey Shore Family Vacation, so that's probably where the rumor began.
Jionni took to Instagram in response to these allegations that his marriage with Snooki is over. "My wife is filming a scene packing up and leaving for her new show and I AM CHOOSING TO NOT be on TV because I simply DO NOT like it," he said in the post. While Jionni did not want to be a "reality star," as he put it, that did not mean that he and Snooki were breaking up. He continued, "Nicole and I are doing great and became even stronger together while raising our beautiful kids. HOWEVER you will not see me on her reality show."
Not only did Jionni make this annoucement, but Snooki commented on the photo agreeing: "I love you beyond words and so lucky to have you," she said. "As long as we know what we have, screw everybody else. You're my world!"
Well, there you have it: Snooki and Jionni are still going strong. Viewers will not be seeing their cute moments on Jersey Shore Family Vacation... but hey, that's what social media is for.
Check out Romper's new video series, Romper's Doula Diaries:
Watch full episodes of Romper's Doula Diaries on Facebook Watch.