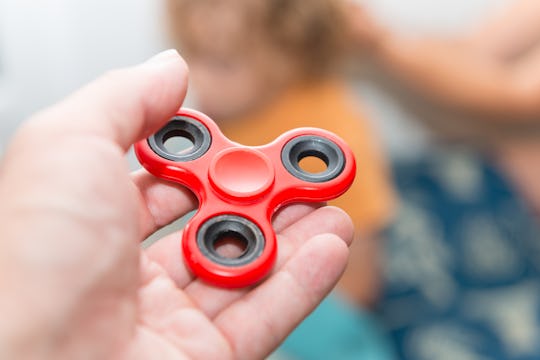 Renaud Philippe / EyeEm/EyeEm/Getty Images
Do Solid Or Patterned Fidget Spinners Benefit Kids More?
Fidget spinners, initially introduced as being beneficial for those with learning difficulties, have become all the rage lately. With fidget spinners flying off the toy store shelves, and being in the hands of every child on the playground, there is no sign of their popularity slowing down. Research has shown fidget spinners increase attention and focus, so if you have a child with Attention Deficit Hyperactivity Disorder (ADHD), you may already have a spinner or two in the house. But, are solid or patterned fidget spinners better for ADHD? Does it matter?
Fidget spinners are small gadgets with a bearing in the middle that allows it to spin. According to TIME, fidget spinners channel restless or bored energy and help to minimize other fidgety behaviors, thus allowing the user to increase focus elsewhere. Scientific Learning noted that fidget toys have been shown to be a beneficial tool for those who have difficulty sustaining attention or focus, so if your child struggles with these things, fidget spinners could be worth trying.
Whether or not colors or patterns of spinners have any benefits or detriments to those with ADHD is less clear. According to a study by Texas Tech University, too much color, motion, or pattern can actually serve as a distraction to children with ADHD or autism. Instead, light and neutral colors are considered to be calming to those with ADHD and autism, the University of Minnesota noted. If fidget spinners do, in fact, prove to be a useful tool for your child to enhance learning, it may be best to go with a light and neutral color rather than the flashy, bright, light-up fidget spinners.
Fidget spinners may be marketed as tools for those with autism and ADHD, but according to LiveScience, they can be more of a distraction to those with ADHD. A study done by the University of Central Florida found that excess gross motor activity, such as fidgeting and squirming, can help to promote neurocognitive functioning in children with ADHD. But, with fidget spinners, the toy moves rather than the child.
As a result, experts have mixed views in regards to their efficacy in promoting focus, as noted by the Chicago Tribune. As the article mentioned, the spinner itself usually becomes the focus of the user, because the toy does the "fidgeting," or moving, rather than the child.
For those with difficulty sustaining attention, fidget spinners could potentially do more harm than good. Generally, excess visual movement, color, or pattern can be a distraction to those with ADHD. It's best to confer with your child's teachers, doctors and therapists to determine the best fidget spinners for them.