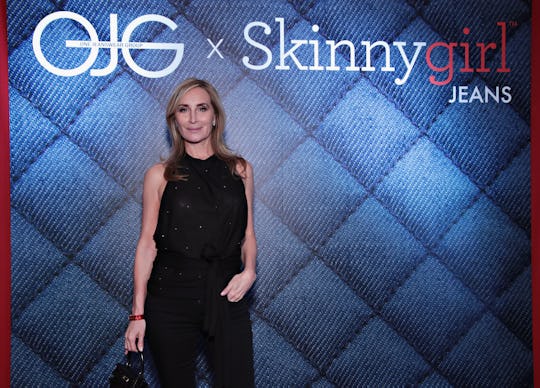 Cindy Ord/Getty Images Entertainment/Getty Images
Sonja & Tom Were Good Friends For A Long Time
When Luann de Lesseps first started dating Tom D'Agostino on The Real Housewives of New York, it caused some tension with her good friend Sonja Morgan. According to Sonja, she and Tom had been casually involved for years, so the situation was definitely more than a little awkward. But now that Tom and Luann have split up, are Sonja Morgan and Tom D'Agostino still friends?
Sonja sat down with E! News back in 2016 to explain exactly what kind of relationship she had with Tom. She described them as "really good friends" who had known each other for a very long time. But they were never a couple and never dated officially. As Sonja said, "He always had a girlfriend and I always had a boyfriend, so it was between, as adults do at our age, you know." She continued, "Our friends kind of know what's going on, but it's different from what [Luann] has."
Sonja has also referred to her relationship with Tom as "friends with benefits" on the show, but it seems like they were friends regardless of what else was going on in their relationship. But now that Tom and Luann's brief marriage has ended, Sonja has picked a team. And she's Team Luann.
In an interview with People, Sonja made it clear that her friendship with Tom was "done" because, as far as she's concerned, "girlfriends come first." She wouldn't be interested in dating a dear friend's ex-boyfriend or ex-husband, but it looks like that extends to maintaining friendships too. She's chosen to hold onto her friendship with Luann instead. Sonja explained:
Tom and I were good friends for much longer time than Luann knew him obviously. And even though Dorinda [Medley] said she knew him for 10 years, she didn't know him like I knew Tom. We're good buddies. He was my drinking buddy. I really knew him to be the bachelor he is.
Sonja mentioned that she "wasn't surprised" by the news that Tom had cheated on Luann because of his past behavior, but now it was more important for her to be there for Luann. She said she hadn't contacted Tom since the divorce and wasn't going to offer him the same support she extended to Luann. "No, no, I'm not there for Tom," Sonja said. "I'm there for Luann."
However, Sonja has seen Tom in passing a few times since his separation from Luann. She didn't go into too much detail (and didn't make it sound like they stopped to chat or anything), but she did say that they crossed paths because they live near one another. Sonja told Bravo's The Daily Dish:
You know, I live on the Upper East Side, which Luann has definitely been avoiding, and you do see Tom 'cause he lives on the Upper East Side. And don't forget Tom was one of my closest friends. We were friends for over 10 years. We used to hang out and party and have a good time. So I'm not doing that with Tom anymore now that there's a rift between between him and Lu. A rift? A divorce.
But even though Sonja is distancing herself from Tom, it seems like she's still in his contact list. In a clip from Episode 12 of RHONY Season 10, Sonja tells Luann that she received an invitation to Tom's New Year's Eve party in Palm Beach, though she declined to attend. Luann and Dorinda seemed horrified that Tom would send an invite to Sonja, but Sonja reiterated that she was more concerned about being there for Luann, despite her years of friendship with Tom. Sonja isn't friends with Tom now, but she won't let you forget that she was once.