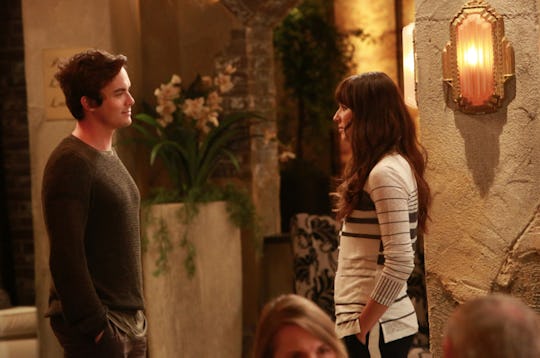 Ron Tom/FreeForm
Are Spencer & Caleb Dating On 'Pretty Little Liars?' Season 6 Could Get Very Complicated
There are so many questions about this season of Pretty Little Liars but the biggest one of all (okay, besides finding a murder suspect, of course) is whether Spencer and Caleb are dating. Hanna and Spencer dated forever, but the second half of season six opened up with Hanna engaged to another guy. (Gasp!) Worse, Spencer is living in Caleb's barn. Sad, right?
Haleb shippers have plenty of reason to worry: Recently, the cast told The Hollywood Reporter that there were going to be lots of changes in who's kissing whom this season. During Tuesday's mid-season premiere, the lovey-dovey vibes were strong. It seems entirely clear that we should have seen the Spencer/Caleb thing coming, if it's true.
However, Troian Bellisario, who plays Spencer, told THR that Spaleb had been best buds forever, and that fans shouldn't be looking out for any romantic vibes from the two just yet, explaining,
Spencer and Caleb were always incredibly close because they think alike and have a huge love for Hanna Banana... She's always been very close to them, so when people were like, 'You're spending a lot of time with Caleb!' I'm like, 'Yeah, because I'm friends with him!'
Still — both actors have been semi-shady about the whole thing, which could mean heartbreak for Hanna, even if she's engaged. What was that longing look at her engagement ring after talking to him? The feelings are obviously still there.
And as far as Spencer is concerned — I mean, you can't just start dating your friends' ex, even if it's totally over and years have passed. It's a rule. During the premiere, Spencer quickly avoided the ladies' questions about her love life. Caleb told Hanna that he was staying in Spencer's barn and she didn't seem to care. But #HALEB forever, right? Right?
It does look like there is a secret romance happening that everyone's been able to pick up on, even if Hanna and Caleb are supposed to be together forever. Spaleb might make sense, but it will be very, very hard to get used to, at least in the eyes of diehard fans...
... First, Because Of The Friend Code:
Second, Because It's So Unexpected:
Third, Because Hanna's Engagement Can't Possibly Last... Can It?!
Although some are rooting for Saleb, it won't be long until everything breaks down. This is Rosewood. Nothing stays secret, or intact, for very long.
Image: Ron Tom/FreeForm