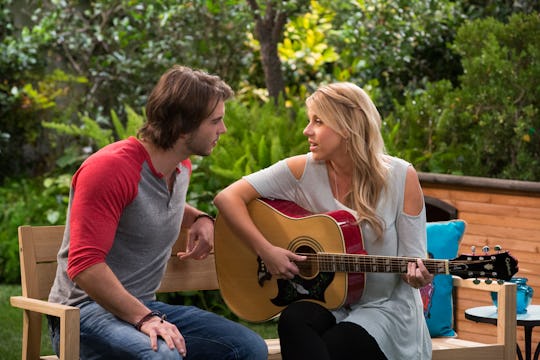 Michael Yarish/Netflix
Are Stephanie & Jimmy Dating On 'Fuller House'? Kimmy's Brother Is New To The Show
Long before the trailer for Season 2 of Fuller House came out, it was said that Stephanie would be getting a new, weird boyfriend when the new season began. And now that it's clear she's making out with Jimmy Gibbler in the trailer, are Stephanie and Jimmy dating on Fuller House? They definitely seem close already, even though it looks like Stephanie had no prior knowledge to his relation to Kimmy before she got involved with him.
It would make total sense, given that TVLine reported back in April that the casting for Stephanie's love interest would be a musician who is a "touch on the weird side." And it surely can't get any weirder than having it be a member of Kimmy Gibbler's family. In the trailer for Fuller House Season 2, you see Stephanie and Jimmy kissing right before Kimmy stumbles upon them and exclaims, "Jimmy?" Then, they proceed to show off a very Gibbler-esque dance routine that looks like it's been done too many times to be socially acceptable.
But having Stephanie and Jimmy dating on Fuller House keeps it all in the family in a way, even though fans never heard of Kimmy having a younger brother before now, and only really heard of her older brother Garth once or twice throughout the entire series.
E! Online reported that the younger Gibbler sibling will be "the male version of Kimmy," which is kind of scary for the Tanners, but should make for some good comedic scenes once Season 2 premieres. So far in the new Netflix series, Stephanie hasn't had a steady love interest and throughout Season 1, the focus was mostly on the love triangle between D.J., her ex-boyfriend Steve, and current colleague, Matt the veterinarian. It's definitely time for Stephanie to have a love interest, even if he happens to be a Gibbler.
You might recognize the Ashton Kutcher doppelgänger Adam Hagenbuch (who plays Jimmy) from the movie The Perks of Being a Wallflower or the Freeform drama Switched At Birth, on which he still plays Mingo. According to IMDB, Hagenbuch is set to appear in seven episodes of Season 2 of Fuller House, though, so fans can probably expect an actual relationship to form between Jimmy and Stephanie, even after she finds out who his closest relative is.
The last time viewers had an up close look at Stephanie's dating life, she was 13 and getting stood up by the jock who Danny had been rumored to have threatened with a can of Spam if he didn't date his daughter. So yeah, this is a step up. Fuller House Season 2 premieres on Netflix on Dec. 9.