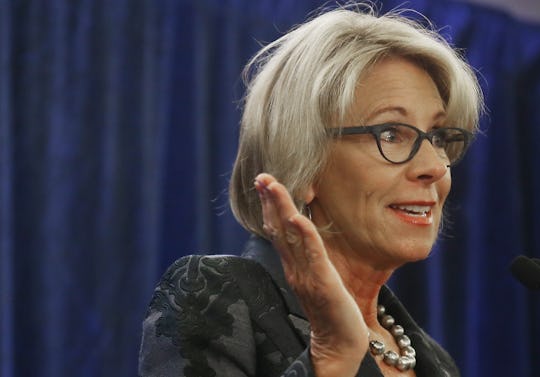 Mario Tama/Getty Images News/Getty Images
Educators Are Speaking Out Against H.R. 610
A current bill in the U.S. House of Representatives, H.R. 610, is summarized as such: "To distribute Federal funds for elementary and secondary education in the form of vouchers for eligible students and to repeal a certain rule relating to nutrition standards in schools." It might sound fairly innocuous at first glance, but the bill would have long-reaching repercussions, and it certainly has its opponents. When it comes to schools and education, a good group of people to ask for opinions and advice on policy is, logically, teachers. With the bill currently sitting in "referred to the House Committee on Education and the Workforce" status, it might be a good time to ask: are teachers against H.R. 610?
According to the Washington Post, H.R. 610 would, as laid out by the Congressional Research Service, "repeal the current version of the 1965 Elementary and Secondary Education Act and only allow the Education Department to award block grants to qualified states." It is also known as the "The Choices in Education Act," and it would do things such as make states seeking those block grants "show that they'll spend the money on a voucher program" and "show that they are going to make it lawful for parents 'to enroll their child in any public or private elementary or secondary school in the State,'" among other things, according to Peter Greene, a teacher and Huffington Post contributor. With the information currently available about the bill, why are some teachers and others involved in education against it?
Kay McSpadden, a high school English teacher in York, South Carolina, pointed out in a piece she submitted to The Charlotte Observer that, "H.R. 610 also repeals nutrition rules that reduce the levels of saturated and trans fat and sodium and increase the availability of fruits, vegetables, whole grains, and low-fat or fat free milk in school breakfasts and lunches." She is concerned that the bill will repeal ESSA, and her conclusion states that "the vast majority of American children – 90% – attend public schools, and legislation such as HR 610 is a dangerous diversion from proven techniques we ought to be supporting."
And Randi Weingarten, the president of the American Federation of Teachers union, has spoken out against Betsy DeVos, the new secretary of Education, calling her "the most anti-public education nominee in the history of the department." DeVos is a big supporter of vouchers and "school choice," according to Business Insider.
Even the Director of Federal Relations for the Home School Legal Defense Association, a home schooling advocacy group, opposes the bill. William A. Estrada was presumably speaking to and on behalf of parents and teachers who use homeschooling methods in a recent statement on the organization's website, in which he stated, "though well-intentioned, H.R. 610 is ultimately ill-advised."
And Harold "Bud" Cothern, a retired superintendent for Goochland County Public Schools in Virginia, wrote a piece for Blue Virginia stating that H.R. 610, "will destroy public education as we know it." He, too, is concerned that the bill will eliminate the Elementary and Secondary Education Act of 1965 and replace it with vouchers.
The bill is still in its' early stages, as it is only just now in referral status with the House Committee on Education and the Workforce. But education advocates are urging everyone, particularly parents of school-aged children, to contact their representatives and direct them to oppose the bill. You can find yours here.