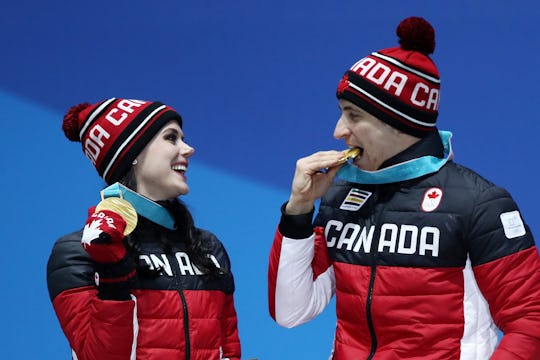 Ezra Shaw/Getty Images Sport/Getty Images
Tessa Virtue & Scott Moir Aren't Dating, But Twitter Refuses To Believe It
The 2018 Winter Olympics have introduced me to my new obsessions. 17-year-old skiers who curse on live television, openly gay athletes who stick to their guns, and two seriously adorable Canadian ice dancers that the world can't stop 'shipping. Tessa Virtue and Scott Moir are not dating, but the tender moments between the two have done little to quiet the cries of those hoping they are more than just friends. Unfortunately, there won't be any Cutting Edge moments between the two — hot and steamy dance moves on the ice will have to suffice.
Virtue and Moir helped Canada land a gold medal on Sunday in the team figure skating competition with their powerful routine set to the soundtrack of Moulin Rouge. That makes it their second gold together, according to Today. Their moves were so compelling that they even earned the praise of Baz Luhrmann, director of the 2001 musical film. The sensual routine included a passionate kiss that had many hoping there was more to their relationship off the ice.
While the two do have a close, special relationship, it isn't a romantic one. "It's a special partnership," Virtue told Macleans in a recent interview. "We still really enjoy skating together and I think that's why we still are."
Moir explained in the same interview that all of the chemistry between the two of them is proof that they are a successful professional team:
We're always telling stories, we're supposed to be reacting, a man and woman on the ice, it's romantic. What we have is such a cool relationship. It's more about a friendship, our working relationship is so strong. We take so much pride in that.
If you thought that kiss was steamy, keep in mind that they performed a toned-down version of their traditional routine — which involves Virtue straddling Moir's shoulders from the front. Hubba hubba! They decided to cut back on the sex appeal to make it more family friendly for the Olympics, according to the Toronto Star.
But Virtue and Moir's insistence that they are just friends hasn't stopped their fans from imagining a passionate love story for the skaters on Twitter. The tweets keep rolling in.
The two have a long and complex history together, which actually does include a brief period of dating — when Moir was 10 and Virtue was eight. The fact that this was two decades ago aside, this is good news for the 'shippers. The romance was cut short though, when Moir called and ended the relationship eight months in after being teased by his friends, according to the Globe and Mail. As disappointing as their breakup may be, take heart in the fact that it was 20 years ago. Take a look at those adorable little faces. Doesn't that cheer you up?
It is safe to say that the two are in a long-term relationship, though, as they have been skating together for two decades. Moir's aunt, who coached both him and Virtue, put them together as dance partners at a young age. "We were terrified to hold hands for quite a while," Moir told Macleans. That has obviously changed. All of that passion and dedication has led to two gold medals and two silvers in three Winter Olympics, as well as three World Championships, according to TIME.
Moir and Virtue are almost finished with their time in PyeongChang. Moir has danced his last ice dance in South Korea, but Virtue will go on to compete in the ladies single skating competitions on Wednesday and Friday. After that, they will close the book on the Olympic chapter of their lives. This will, indeed, be their last Olympics, as TIME reported. But even without the draw of Olympic crowds, there's no doubt that their close relationship will remain just that — with or without the romance that the world is hoping for.
Check out Romper's new video series, Romper's Doula Diaries:
Watch full episodes of Romper's Doula Diaries on Facebook Watch.